A Generation Made to Fight: Saving South Sudan's Child Soldiers
UNICEF helped free 1,775 former child soldiers in 2015, but fears that growing violence is fueling a new surge in recruitment.
#ChildrenNotSoldiers: 145 children released by armed groups in #SouthSudan yesterday https://t.co/Rg96kcp5eW via @BBCWorld@unicefssudan

— UNICEF USA (@unicefusa) October 27, 2016
Since South Sudan's conflict began in 2013, nearly 2.3 million people have fled their homes. Parents and children have taken refuge in South Sudan's vast swamps. Many have drowned or died from hunger and disease. Other children have been the the victims of targeted attacks — nearly 2,000 have been killed.
Child soldiers: the war's darkest dimension
The use of children as combatants adds an even darker dimension to an already terrible conflict. An estimated 16,000 have been recruited by armed groups. Many, if not most, are coerced. 
"Forces attacking villages often grab children and force them, at gunpoint, to fight while others join to save themselves from being beaten or killed and to protect their communities,'' said Forsyth. If they don't send their children to serve as soldiers, families are threatened with the theft of their cattle, a major source of wealth in South Sudanese society.
In 2015, significant progress was made in the effort to end the recruitment of children as soldiers. UNICEF oversaw the release of 1,775 former child soldiers in what was one of the largest demobilizations of children in history.
Since their release, UNICEF has been working to provide these children with livelihood and educational opportunities. The goal: reintegrate them into their communities and give them futures away from the armed groups. Removing factors that could cause re-recruitment is a key part of UNICEF's program.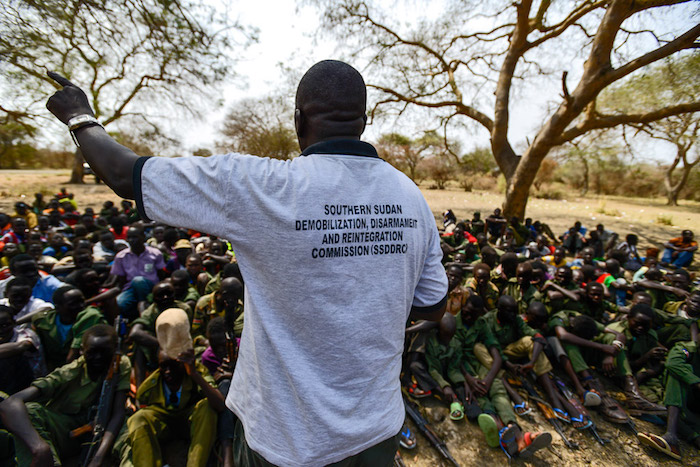 But despite the committments of South Sudanese leaders to end child recuitment, children continue to be used as soldiers. And renewed fighting has sparked fears of a new surge in the use of child combatants. UNICEF has reported that hundreds of children have been recruited into armed groups since January.
650 children have being recruited into the fighting since January
"The dream we all shared for the children of this young country has become a nightmare," said Justin Forsyth, UNICEF Deputy Executive Director.
"At this precarious stage in South Sudan's short history, UNICEF fears that a further spike in child recruitment could be imminent," he added.
Grave violations against children
Recruitment into battle isn't the only threat to an entire generation of South Sudanese children. Thousands have been killed, injured, sexually violated and abducted by both sides to the conflict. Gender-based violence is extremely prevalent.
Rape, sexual exploitation and abduction is pervasive. Attacks on women and girls outside Protection of Civilian (POC) sites have occurred continuously over the past two and a half years. They have greatly intensified with the recent outbreak of violence in Juba. And with shortages of food and firewood, women and girls are increasingly forced to put their safety at grave risk by leaving the POC sites to meet their daily survival needs.
Stand for Hope: Help give children in crisis a second chance at childhood. Donate Now.