Welcome to UNICEF USA!
Stay informed on UNICEF's work saving and protecting children around the world
Partner since 2005
Gucci's Charitable Partnership With UNICEF USA Is Doing a World of Good 
Since 2005, Gucci has contributed more than $20 million to UNICEF's work, focusing on the 'Schools for Africa' initiative, which helps the most disadvantaged children, including girls, orphans and those living in extreme poverty, gain access to quality education. To date, this partnership has positively impacted the lives of more than 7.5 million children living in sub-Saharan Africa and China.
A Decade of Partnership
Gucci has consistently supported UNICEF's programs in Malawi and Mozambique, with a view to creating sustainable change for the children, families and communities in these two countries. To mark 10 years of partnership and in support of UNICEF's work, Gucci released a short docu-film, Growing Tall, on 2 June 2015. Narrated by children, teachers and parents in a rural community in Mozambique, the film highlights progress made in education over a decade, and illustrates the power of education to transform lives, particularly for girls and women.
CHIME FOR CHANGE
Founded by Gucci, Beyoncé and Salma Hayek Pinault in 2012, CHIME FOR CHANGE is a global campaign focused on girls' and women's empowerment. It serves to convene, unite and strengthen voices speaking out for girls and women around the world, and to raise funds, through crowd-funding, for non-profit organizations pursuing change in the areas of education, health and justice. UNICEF has received support from CHIME's network for activities such as providing school scholarships for girls, and immunizations to women in order to eliminate maternal and newborn tetanus. 
With UNICEF, Salma Hayek Pinault visited Syrian refugees in Lebanon in 2015 to draw attention to the urgent humanitarian needs of children and families whose lives have been upended by the conflict in Syria. CHIME for the Children of Syria, is a crowd-funding appeal to help UNICEF provide children with learning opportunities and psycho-social support services.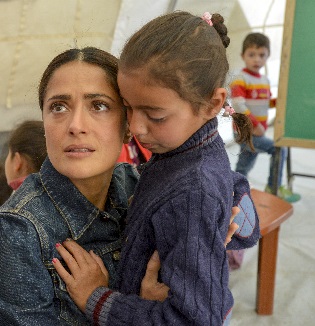 Current Commitment
Gucci has committed to make a further €1 million (~$1.1 million) contribution to UNICEF's work before the end of 2016. In consultation with UNICEF, Gucci is channeling this new donation towards education initiatives in Burkina Faso, a country where only 65% of girls go to school, compared to 76% of boys.
Gucci Campaigns in Support of UNICEF
Since 2005, Gucci has raised funds for UNICEF through various activities including events, corporate and employee donations, sales of an annual Gucci for UNICEF bag and grants made in association with the Gucci Children's Collection. 
Learn more about the Gucci-UNICEF partnership.
Are you interested in sponsoring a child? Learn how you can save and protect every child with UNICEF.