Welcome to UNICEF USA!
Stay informed on UNICEF's work saving and protecting children around the world
Atlanta was the host to the largest Key Club event of the year, the Key Club International Convention (ICON), which brings together more than 1,200 Key Clubbers from all across the globe. Key Clubs are one of the amazing student communities that the U.S. Fund for UNICEF is able to work with. A proud participant in Trick-or-Treat for UNICEF since 1994, Key Club has raised over US$7 million for child survial and development programs around the world.
Funds Key Clubbers raise through Trick-or-Treat for UNICEF go to The Eliminate Project. The Eliminate Project aims to eliminate maternal and neonatal tetanus (MNT), a deadly disease that kills one baby every eleven minutes. Since 1999, 40 out of 59 countries have eliminated MNT with the support of partners like Key Clubs, with only 19 more countries to go. Thank you Key Clubbers for being so committed to The Eliminate Project!
Now let's hear what everyone had to say about this year's Key Club International Convention.
"UNICEF has changed the way I think about Key Club. It has inspired me to become a public servant as an adult and shown me how to be aware of what is going on in the world."
-Noah Merck, Student at Chestatee High School, Chestatee High School Key Club Vice President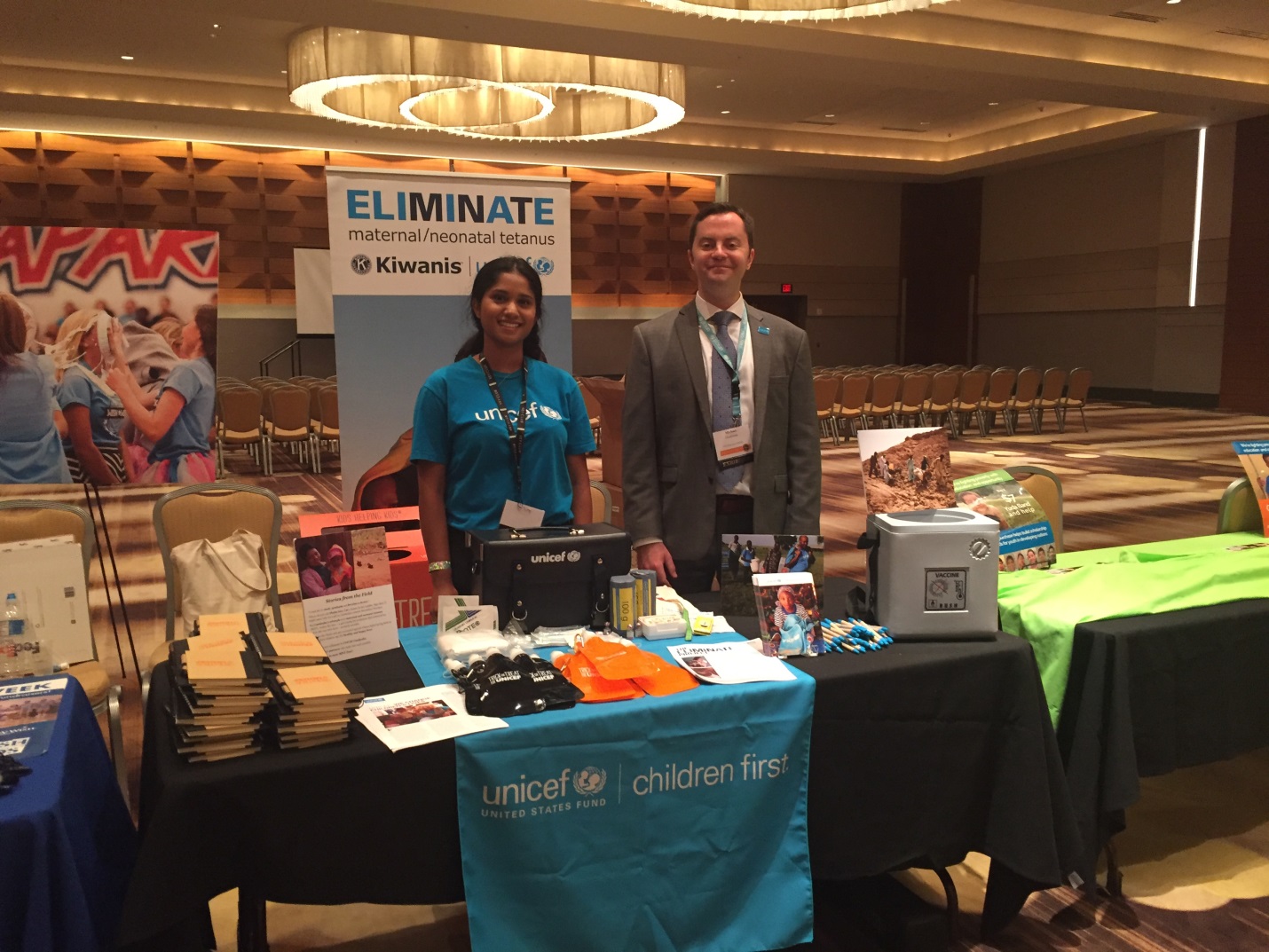 "I'm consistently amazed and impressed by the enthusiasm Key Club members have for service and for helping others.  Key Clubbers are true global citizens: they demonstrate knowledge of issues affecting their peers around the world and they take meaningful action to improve lives.  The world is a far better place for kids because of what Key Club members do every day."
-Michael Grudzinski, Director of Global Cause Partnerships, U.S. Fund for UNICEF
"One of the reasons I joined Key Club was because of its partnership with UNICEF. I loved seeing the booth there at ICON (Key Club International Convention) and was appreciative of the information sheets I could take back to my club." 
-Amanda Lang, Student at Lambert High School, Georgia District of Key Club International Editor
"I really enjoyed the UNICEF booth at the service fair! They showed us the real syringe they used to vaccinate the mother from maternal and neonatal tetanus and it was so cool how a small little vaccine vial can protect 10 mothers and all of their future babies."
-Minyoung Kim, Student at Lambert High School, Georgia District of Key Club International Governor
"During ICON, I had the beautiful opportunity to enjoy the diverse cultures that Key Club brings together as one family."
-Jake Kwon, Student at Lambert High School, Past Lambert High School Key Club President
"The air in the convention hall was just sizzling with the passion and energy of the Key Clubbers. It was incredibly inspiring to see high school students so committed to making a positive difference in the world! Interacting with the students at the UNICEF booth and during workshops reinforced how lucky I am to be in a position where I can work with such powerful youth, and I am so honored to have been a part of this exciting event."
-Eri Okuma, Global Cause Partnerships Officer, U.S. Fund for UNICEF
"Speaking to the Key Clubbers about their support of UNICEF and The Eliminate Project was inspiring! I talk to community members who are passionate about UNICEF all the time, from adult volunteers to educators to students. This group of Key Clubbers is one of the most enthustiactic, determined groups I have worked with. I'm very proud to support Key Clubbers who are putting children first. "
-Ruhi Rahman, Atlanta Community Engagement Fellow, U.S. Fund for UNICEF
Did you know Ruhi, the Atlanta Community Engagement Fellow, is available to speak to your Key Club? Get in touch with her at rrahman@unicefusa.org.
And don't forget to check out www.keyclub.org for more information about the oldest and largest service program for high school students.
If you're already a Key Clubber and want to support UNICEF go to TheEliminateProject.org/trickortreat for more information about how to get started!