Welcome to UNICEF USA!
Stay informed on UNICEF's work saving and protecting children around the world
Ikea's Charitable Partnership With UNICEF USA Is Doing a World of Good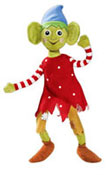 IKEA has been a UNICEF partner since 1988 and has donated more than $200 million to UNICEF programs through a combination of philanthropic donations, sale of UNICEF greeting cards, cause-related marketing promotions, in-kind assistance and national-level fundraising and promotional activities led by IKEA customers and employees around the world. Today, IKEA is UNICEF's largest global corporate cash supporter.
"Soft Toys for Education"
Since 2003, as part of the annual "Soft Toys for Education" cause-related marketing campaign, the IKEA Foundation donates 1 euro for each soft toy and children's book sold in over 300 IKEA stores worldwide during November and December. Over the past ten years, this campaign has generated more than $51 million to support UNICEF's education programs around the world.
Holiday Greeting Cards
IKEA stores in the United States have sold UNICEF cards during the holidays since 1988. The company donates an additional $1 to UNICEF for every pack sold.
Grants
IKEA and UNICEF celebrate over ten years of working together to help over 74 million children in India create a better future for themselves and their families.
In the past 10 years IKEA has contributed more than 100 million euros to UNICEF projects in India, helping to reduce child and maternal mortality through health, nutrition, clean water and sanitation interventions.
In-Kind Donations
In 2013, the IKEA Foundation committed to provide toys to UNICEF's Early Childhood Development (ECD) kits to help meet the needs of some the most vulnerable young children in the world. The toys, with an estimated value of $2 million, will be used in 24,000 ECD kits that will be distributed around the world over the next two years. The kits will help to ensure that approximately 1.2 million children will have more opportunities for a better start in life.
In the aftermath to the 2008 earthquake in China, IKEA donated 5,000 bed sheets, 20,000 bath towels, 10,242 sleeping bags, 7,000 school bags and 30,000 bowls. Through the IKEA Foundation the company has donated 18,000 tables for use in schools and health centers in Liberia and Burundi, thousands of much needed quilts to tsunami survivors in Indonesia and Sri Lanka, and 344,000 duvets and 45,000 baby blankets for survivors of the Pakistan earthquake. 
Emergency Response and Rehabilitation
In an emergency, IKEA Foundation supports a two-pronged approach by first helping during the initial phase of emergencies with donations of products, then investing in mid-term/long-term recovery and rehabilitation efforts.  Most recently, IKEA Foundation made a donation of US$1.3million to support UNICEF's emergency response plan in South Sudan as it scales up its operations to protect the health and ensure the safety of children displaced by the conflict. Additionally, in November of 2013, the IKEA Foundation donated $2.6million to support relief efforts in the aftermath of the Super Typhoon Haiyan that struck the Philippines.  IKEA Foundation support to UNICEF emergency programs has exceeded $20million in cash and in-kind contributions since 2005.
Are you interested in sponsoring a child? Learn how you can save and protect every child with UNICEF.