UNICEF Charity Partner Offers

BRIGHT FUTURE AND WORLD PEACE SPECIAL EDITION BRACELETS
Founder, CEO, and Chief Creative Officer of ALEX AND ANI, Carolyn Rafaelian, has designed two bracelets so that people can proudly show their personal commitment to building a better world for children:
The 

Bright Future

 bangle ($28), featuring a mother and child, in Shiny Silver or Shiny Gold finish;

The Kindred Cord World Peace ($21), featuring a gold, silver or rose gold peace symbol.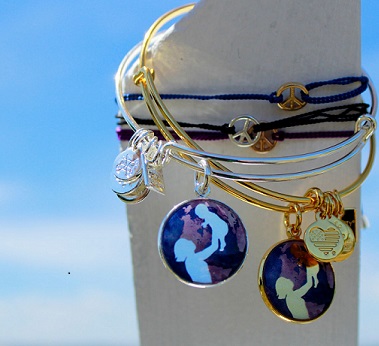 From August 15, 2016 until February 28, 2018, ALEX AND ANI will donate 20% of the purchase price* towards UNICEF's work. The bracelets are available at ALEX AND ANI stores in the U.S., authorized retailers and www.alexandani.com
*Purchase price includes sales to ALEX AND ANI retail and web customers, and authorized retailers. No portion of the purchase price is tax deductible. UNICEF does not endorse any brand, company or service.
READ MORE ABOUT ALEX AND ANI'S PARTNERSHIP WITH UNICEF.
Giorgio Armani Fragrances - ACQUA FOR LIFE
Giorgio Armani Fragrances partners with UNICEF USA to help provide clean, safe water and adequate sanitation to some of the world's most vulnerable children around the world.  Together with its employees and customers, the company has raised more than $3.4 million to support programs in Central African Republic, Guatemala, Haiti, Togo, Vietnam, Cameroon, Mauritania, Burkina Faso and Tanzania.
This March, for every Acqua di Gio for Men, and Acqua di Gioia for Women fragrance sold in the U.S., Giorgio Armani Fragrances will donate $5 to UNICEF's water and sanitation work in Haiti.
FIND OUT MORE ABOUT THE ACQUA FOR LIFE CAMPAIGN
STAR WARS: FORCE FOR CHANGE
 AND TARGET SUPPORT UNICEF KID POWER

UNICEF Kid Power allows kids to get active and save lives. With the world's first wearable-for-good™, available at Target and Target.com in blue, orange and two special Star Wars: Force for Change editions in black and green, kids go on missions to learn about new cultures and earn points. Points unlock funding from partners, parents and fans, and funds are used by UNICEF to deliver lifesaving packets of therapeutic food to severely malnourished children around the world. The more kids move, the more points they earn, the more lives they save. UNICEF Kid Power is made possible through the generous support of Presenting Sponsors Star Wars: Force for Change and Target, as well as local supporters, parents and fans.