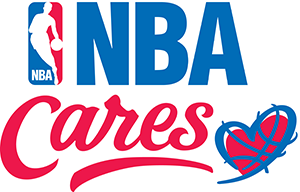 For well over a decade, UNICEF and the National Basketball Association have leveraged the global power of basketball on behalf of the world's most vulnerable children. Through the NBA Cares initiative, the league and its players have partnered with the UNICEF USA to protect the rights of children around the world through fundraising programs, advocacy initiatives and disaster relief.
NBA Support
Disaster Relief
Through NBA Cares, the NBA and its players are critical first responders in times of emergency. In November 2013, the NBA and the National Basketball Players Association responded to the catastrophic typhoon in the Philippines with a generous donation in support of UNICEF's humanitarian work. In 2010, both organizations responded to the devastating earthquake in Haiti with critical funding for relief efforts while individual players, such as Samuel Dalembert, stepped up to help as well. Recently, the NBA community assisted in UNICEF's call to action to aid the thousands of children caught in the cross-fire of the war in Syria as well as the fight to overcome malnutrition in Africa's Sahel and Horn of Africa regions. In times of crisis, children in need know that the NBA Cares.
Program Highlights
NBA Players Make Field Visits to Africa
Field visits are one of the most important ways NBA players engage with UNICEF. Creating a positive environment for everyone, NBA players interact with aid workers, children and parents and personally experience the work of UNICEF's lifesaving programs. These field visits also draw critical media attention to UNICEF's efforts. Players recently visited a number of African countries including South Africa (Kyrie Irving), Tanzania (Tyson Chandler), Chad (Pau Gasol), Kenya (Nick Collison, Luc Mbah Moute, Dikembe Mutombo) and Zambia (Jose Calderon).
UNICEF Ambassador Pau Gasol Visits Syrian Refugees in Iraq
UNICEF Ambassador and NBA star Pau Gasol recently visited with Syrian refugees in Iraq. "It was shocking to learn what these children, who have been affected by the conflict in Syria, have experienced. No child should have to endure such violence and destruction, or be deprived of the basic services they need to grow and develop to fulfill their potential," said Gasol, a two-time NBA Champion with the Los Angeles Lakers. Some of the UNICEF responses to the crisis that Gasol saw during his visit included: the provision of clean drinking water and adequate sanitation facilities, primary education, health care, and child protection services. The humanitarian crisis related to the Syrian conflict is unprecedented with the UN having made its largest ever humanitarian appeal as well as calling on governments to find an immediate end to the tragedy.   
NBA Teams Support UNICEF
UNICEF receives valuable fundraising and promotional support from NBA teams including the Los Angeles Lakers, New York Knicks, Oklahoma City Thunder, Golden State Warriors, Philadelphia 76ers and many more. From the power provided by team marketing and broadcast assets to raise the call for help to integrated relationships that support fundraising and advocacy initiatives, NBA teams fight as hard off the court for children's rights as they do on the court for wins. 
Social Media Advocacy
The power of social media has allowed UNICEF to leverage the extensive networks of both the NBA and its players to advocate for children's rights as well as UNICEF fundraising initiatives and programs. Millions of followers have been engaged in critical conversations about UNICEF's efforts on behalf of the world's children.
UNICEF Tap Project
The U.S. Fund for UNICEF'S celebrated initiative to provide children around the world with safe, clean drinking water has benefited from extensive NBA support. All-Star center Dwight Howard has participated in the Celebrity Tap campaign, and his signature bottle of water was one of six included in a Celebrity Tap Pack. In addition, a massive social media mobilization campaign for the Tap Project was promoted on Facebook by numerous players and through various league channels.
Trick-or-Treat for UNICEF
The NBA has supported Trick-or-Treat for UNICEF, the Kids Helping Kids campaign that has been one of America's best-loved Halloween traditions for over 60 years. NBA involvement has included collecting coins at NBA games, as well as personal support by individual players who visit schools that fundraise for Trick-or-Treat.
Basketball without Borders
Basketball without Borders (BWB)—the NBA's global basketball development and community outreach program—uses sports to influence positive social change in communities around the globe. The initiative engages current and former NBA players and team personnel as camp coaches. They work with young players and promote friendship and healthy living. UNICEF participates in the camps through interactive educational seminars and other activities. Caryl Stern, U.S. Fund for UNICEF President and CEO, and UNICEF supporter Dikembe Mutombo recently participated in a BWB camp in Johannesburg, South Africa.