Why Lucy Meyer Gives to UNICEF: "Because Everyone Is Different"
Among the cherished rights of children is the right to to be included and accepted for who they are.
No one makes that case better than Lucy Meyer, the 18-year-old spokesperson for UNICEF USA's partnership with Special Olympics. "Everyone is a little bit different," says Lucy. "I don't think about my disability at all. Yes, I have cerebral palsy because I was deprived of oxygen for five minutes at birth. But the first time someone called me disabled, I came home saying, 'I am not disabled. I'm LUCY!'"
Today, Lucy, is still Lucy, but she's also a five-time Special Olympics gold medal winner for swimming and, since 2013, a global champion for children with disabilities. In her role as spokesperson for the UNICEF USA-Special Olympics partnership she has helped raise more than $500,000 to support UNICEF programs for children with disabilities, work for which she will be honored at the UNICEF Snowflake Ball in New York at the end of this month. 
Here, in her own words, is why she gives to UNICEF:
"UNICEF does great work around the world helping children," says Lucy, who, since 2013, has been doing her part by speaking at major events across the U.S. and fundraising to support a variety of UNICEF and Special Olympics programs in countries such as Mexico, Peru, Belize and Jamaica. Just last summer, Lucy and her parents traveled to Brazil, where she combined competing in the Recife, Brazil, Special Olympics with visits to meet children and families helped by UNICEF programs.
In an interview with Diário de Pernambuco duringLucy's visit, Robert Gass, chief of UNICEF's field office in Brazil's semi-arid territory, stressed the importance of Lucy's visit for spotlighting the rights of Brazilian children and adolescents with disabilities: "Unfortunately, children with disabilities are often invisible, excluded from schools and abandoned by the government." 
Although children with disabilities fare far better in the U.S., Lucy recently told Teen Vogue that discrimination exists here, too, and that school in particular can be tough: "Kids with disabilities don't do everything the same as kids without disabilities, so we often get excluded."
But thanks to loving parents and a school where acceptance is a core value, Lucy is living proof that children with disabilities can aim high and succeed at whatever they set out to do. 
"I never tell myself I can't do something because I have a disability. And it's my hope that kids with disabilities get to do the same kinds of things that I and all young people like to do."
That's one reason why Lucy is such a staunch advocate for inclusive sports. Over the past couple of years, Lucy has worked tirelessly with Special Olympics Southern California to bring athletes of all abilities together at Unified Sports Days. And during her travels to see UNICEF-supported Special Olympics programs in action, she and her parents have been happy to see them catching on in places like Jamaica and Brazil, too.
"Making sure kids get all the things they need to be healthy and happy and live great lives," is what Lucy says she loves most about working with UNICEF. And as she and her family travel in countries where UNICEF provides free health screenings to children who might otherwise be forgotten, their commitment to helping only grows.
"We've seen how UNICEF's unequaled deep relationships with host governments and other service agencies make lasting change in the lives of so many children," says Lucy's mom, Jamie. "We are so pleased to support Lucy's advocacy for children with disabilities with our UNICEF contributions. We know that if we all stand together to #givehope, even more can be accomplished!"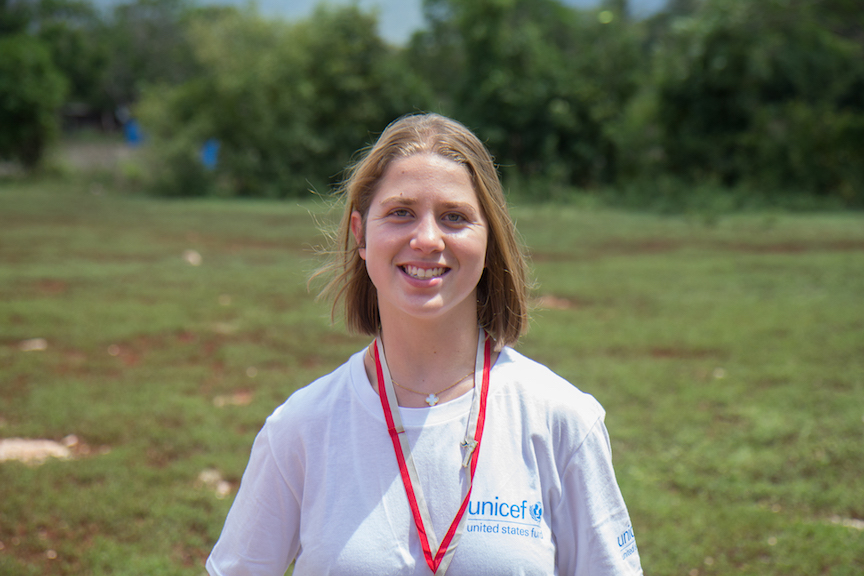 #GiveHope now to support UNICEF's programs for children around the world who, like Lucy, are just a little bit different, but capable of big things.