Violence in Iraq: Voices of Yazidi Refugees
Inside the Nawrouz refugee camp in Syria, where families have fled from the violence in Iraq.
Razan Rashidi is a UNICEF Communication Officer who visited the Nawrouz refugee camp on Aug. 12, 2014.
"We walked for more than 20 hours with no food or water," says Juan, an adolescent girl who arrived at Nawrouz refugee camp in northeast Syria three days ago along with eight family members.
"We walked for more than 20 hours with no food or water."
Juan is from the Yazidi minority group, many of whom are fleeing to Syria from the mountains of Sinjar in Iraq. Sinjar, a district of Ninewa in northwest Iraq with a population of at least 150,000 children, including many who are internally displaced, was taken over by the Islamic State (formerly known as ISIS) on Aug. 10.
Thousands of Yazidi families are arriving daily to this new refugee camp in Syria, 25 miles from the Iraqi border. About 5,000 families were estimated to be at the camp as of Aug. 12, with children making up 60 percent of the arrivals.
A UNICEF health worker measures the arm of a Yazidi child to check for malnutrition. © UNICEF Syria/2014/Razan Rashidi
A long journey in extreme heat
With daily temperatures reaching up to 113 degrees Fahrenheit, many children arrive at the camp suffering from sun- or heatstroke.
"This boy walked from Iraq to Syria," says a mother of seven, pointing to her five-year-old.
A U.N. team delivered supplies to the camp yesterday, including high-energy biscuits, hygiene kits and clothing to replace the worn-out items they came in. More than 200,000 Yazidis remain stranded on the Iraqi side of the border, with many expected to cross into Syria in the coming days.
"People keep arriving in huge numbers."
"We heard horrible stories about the Islamic State's practices, so we decided to flee during the night," says an elderly man. "I was worried about my daughter-in-law and my grandchildren. Walking was not easy for an old man like me, but that was the only solution we had."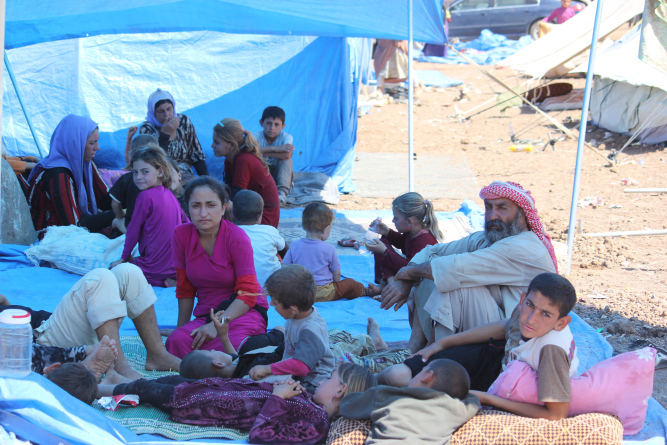 Yazidi families rest and shelter from the sun at Nawrouz refugee camp. © UNICEF Syria/2014/Razan Rashidi
Shelters under pressure
Local humanitarian groups started relief efforts when the influx began last week. "We have very limited resources," says Nisreen, a young volunteer with the Kurdish Relief Association. "People keep arriving in huge numbers. As soon as we think a family is settled in a tent, we find 10 more who just arrived."
UNHCR, the U.N.'s refugee agency, and its local partners have provided more than 500 tents. "We just want a safe place," says Roshan, a mother of six who arrived at the refugee camp on Aug. 12. Her children were covered with dust. "All countries are in war. I am tired," she says.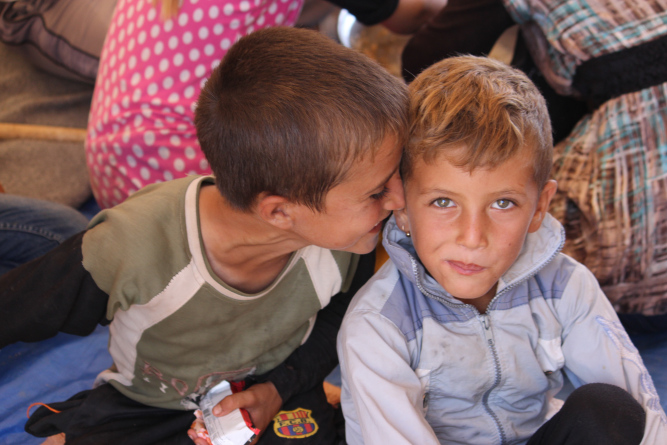 Two young Yazidi boys at the Nawrouz refugee camp. © UNICEF Syria/2014/Razan Rashidi