Welcome to UNICEF USA!
Stay informed on UNICEF's work saving and protecting children around the world
Human trafficking was something I had always heard about, but didn't know the staggering facts that come along with the horrific act or that it was in the state of Florida. To learn that Florida has the third highest rate of human trafficking, with Tampa being one of the top destinations in the state, I immediately felt the need to really create awareness not only at the University of South Florida (USF) but within the Tampa Bay community as well.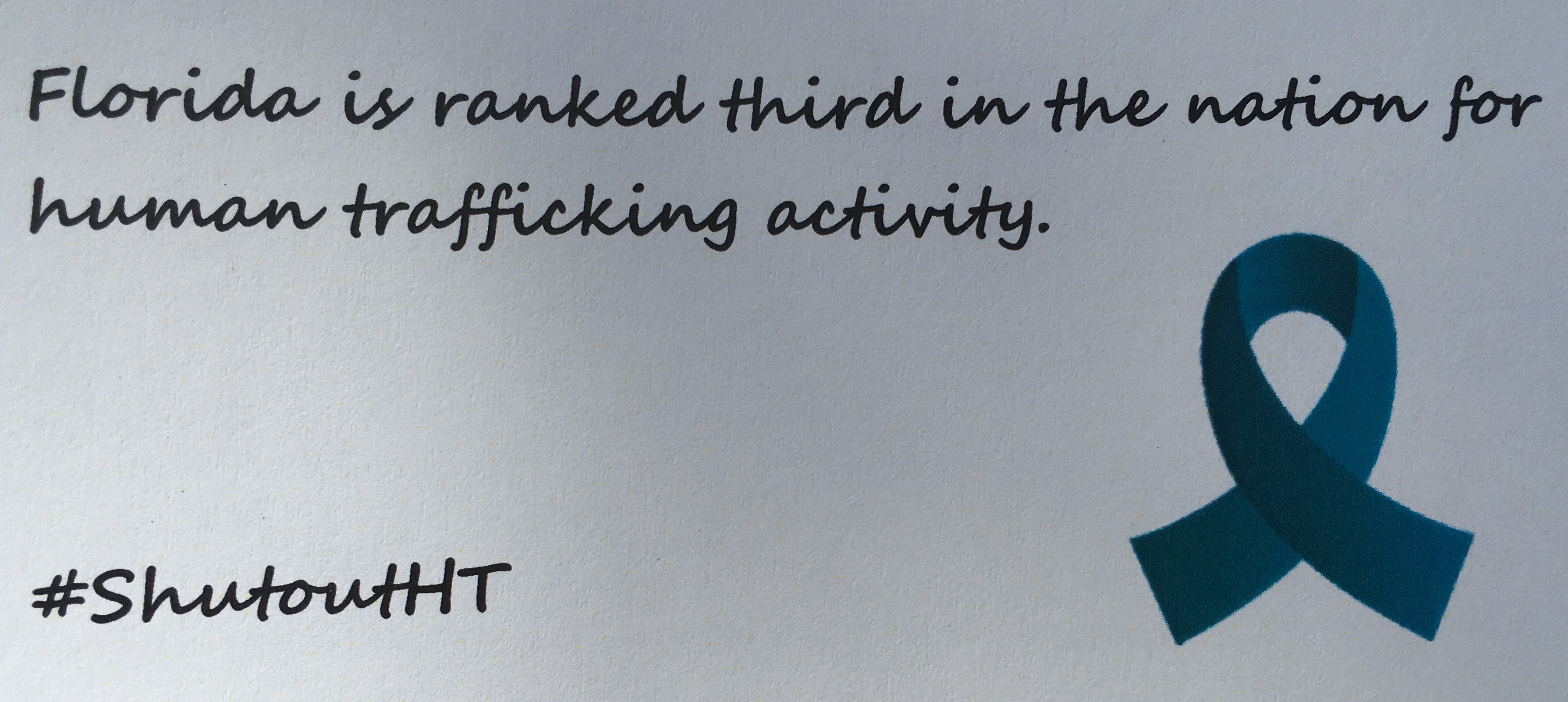 Throughout our weeklong initiative, USF Athletics and Student Affairs hosted several events that not only opened the students' and community's eyes to this phenomenon, but my eyes were opened as well. Tuesday, we hosted a keynote and movie event with about 100 students in attendance that may have otherwise never had an open discussion regarding human trafficking. Wednesday, with the help of many students on behalf of Student Affairs, we tabled at the weekly "Bull Market" with several activities and giveaways. We were able to share with another percentage of the student body the facts and raise awareness with activities including social media posts and a mapping activity, with a t-shirt giveaway and/or fair trade chocolate from Equal Exchange. Many of the students we interacted with were shocked to learn that trafficking in happening right here in the U.S. and the astonishing statistics we provided on name tags to raise awareness outside of the Bull Market.
Prior to the week of awareness, we created a public service announcement that included six student-athletes (Track and Field, Men's and Women's Soccer, Football, Basketball), the USF Director of Athletics and USF System President. This PSA gave information, statistics and ways to take action to help Shut Out human trafficking. This PSA was shown at our men's basketball game against George Washington at the Sun Dome in front of an audience of 2,790, as well as our football victory against Cincinnati at Raymond James Stadium to a reported crowd of 26,522. Overall, over 29,000 people saw our PSA.
During the week prior, week of, and at the men's basketball game we hosted a toiletry drive to collect items to be donated to the Florida Dream Center to help victims of human trafficking get back on their feet. At each game we recognized the U.S. Fund for UNICEF for their amazing efforts to battle human trafficking, as well as the Florida Dream Center for their fight here in the Tampa Bay area.
On December 3, we traveled to the Florida Dream Center to take the donations gathered around campus and at the events. This was one of the best experiences, we were able to see the boutique that the center has for victims to "shop" in, free of charge. It was amazing to sit with the Executive Director and hear the stories of their outreach and the incredible impact they are a part of through safe homes, extractions, the boutique and many other programs.
This was an incredibly humbling experience for all of us that were involved in this initiative here at USF. Hearing the many stories, testimonies, facts and figures and visiting with the Florida Dream Center truly touched each of us to keep fighting and raising awareness.