Welcome to UNICEF USA!
Stay informed on UNICEF's work saving and protecting children around the world
I am writing today to share some good news — something we all need as we face the continuing child refugee crisis in Europe, violence in Syria and Iraq, famine in Africa and the Middle East, and the growing polarization of the American public on many vital issues.
I'm happy to announce that we have taken an initial, but very significant step towards securing UNICEF's annual funding as part of the federal government's budget for Fiscal Year 2018, which will start in October. On July 19, the House Appropriations Committee voted to approve a direct UNICEF appropriation of $132.5 million for FY 2018.  That sum would maintain our funding at the same level as in the federal government's current FY 2017 budget, despite substantial reductions in other categories of foreign aid.
One big reason we were able to achieve this legislative success is our steadfast commitment to UNICEF's founding ideal: That the welfare of the world's children rises above parties and politics.  When Maurice Pate, UNICEF's first Executive Director, took on the Herculean job of helping children in the aftermath of World War II, he insisted that UNICEF would work for all children, regardless of what side their parents had fought on.  Today, putting children first — no matter who they are or where they live — has never been more important.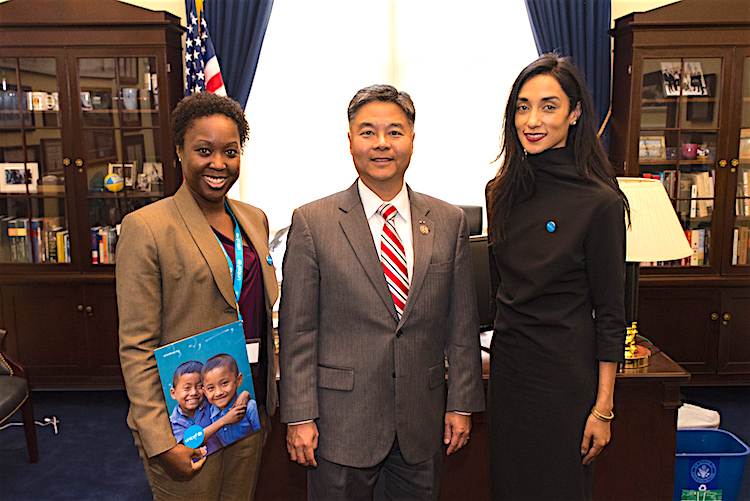 The lion's share of the credit for this interim, bipartisan victory belongs to our supporters. Their support and advocacy have made a difference.  Their commitment to children has been heard. 
Our Hill Day last April 4, for example, was the most impressive moment of outreach, engagement, and activism on behalf of UNICEF we have ever organized.  More than 400 UNICEF advocates from across the nation participated in 176 meetings with U.S. Senators and Representatives.  We made an impact on both sides of the aisle that will continue to resonate in the months ahead as Congress works on UNICEF's $132.5 million appropriation and on other vital children's issues.
Other supporters who were not able to make our Hill Day participated in our call-to-action by emailing, calling, writing or tagging their federal legislators via social media and by activating their own social networks.
So, I offer a heartfelt "thank you" to all our supporters and friends for giving voice to the urgent needs of the world's children. 
As the House and Senate continue to work on the federal government's FY 2018 budget, we will share important updates about the progress of UNICEF's appropriation.
Learn more about UNICEF USA's advocacy on behalf of the world's children.