UNICEF & Prudential: Working Together to Reduce the Risk of Disaster
Preventing disasters and being better prepared is vital to protect a child's development and to save lives.
When disaster strikes, effective response is vital to securing help for children and saving lives. As the number of people affected globally by disasters continues to increase, forward-leaning private sector partners – like Prudential – recognize that it's critical to have local strategies in place ahead of a devastating situation to help manage risk and mitigate loss.
In support of this belief, Prudential invested $1.5M in 2016 to support UNICEF's efforts to integrate resiliency and disaster risk reduction into UNICEF programing. Through this investment, the UNICEF Risk Reduction and Resilience team piloted the Guidance for Risk Informed Programming and conducted its first training in the Bosnia and Herzegovina UNICEF Country Office earlier this year. Importantly, this global guidance will help UNICEF and its partners analyze the risks to children posed by disasters, climate change, epidemics, a lack of social cohesion and other shocks.
As part of the pilot process, the UNICEF Risk Reduction and Resilience team will hold a series of 3-day workshops to focus on capacity building on the methodology, validating the analysis of vulnerabilities and capacities, identifying risks to children and adapting programs to address the risks. The first workshop, which was held in Sarajevo with the Bosnia Herzegovina Country Office, enabled participants to reach a consensus on the risk analysis and to identify program adjustments, while also reviewing and strengthening the draft methodology.
"It is important that all workshop participants from different sectors know what they can do to include the risk based programming for children in their daily activities." said UNICEF Representative Geeta Narayan after the workshop.
Antony Spalton, UNICEF Risk Reduction and Resilience Specialist highlighted that "Children live in a complex world, whether in Europe, USA or any other part of the world. They are faced with various disasters and crises, such as earthquakes, floods and violent conflict. With support from Prudential and UNICEF USA we will continue the piloting of the new guidelines."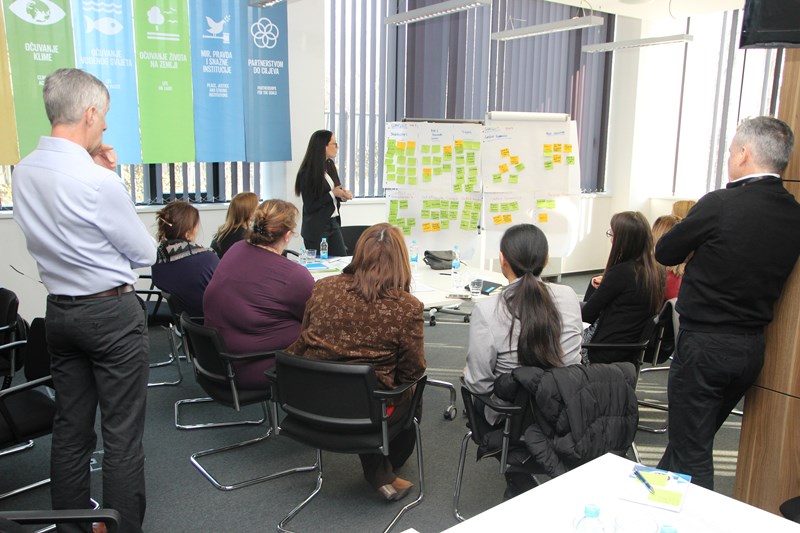 UNICEF's work on risk informed programming includes disaster risk reduction, climate change adaptation, peacebuilding and conflict sensitive programming. Examples of this programming include convening young people in areas of conflict to discuss opportunities for peace, elevating water systems in flood prone villages and supporting schools to raise awareness of climate change and their environment in the school curriculum. Additionally, UNICEF helps local partners develop their capacity in risk assessment while promoting the young people's active participation to ensure the next generation is thinking ahead to risk informed programming.
Additional locations for the piloting include Malawi and India. Final guidance for risk informed programming will be shared throughout UNICEF's country offices to manage residual risk and contribute to strengthening resilience and reducing losses.
As UNICEF Deputy Representative, Anna Riatti noted "At the time of a disaster, children are often faced with deprivation of certain rights, such as right to education, adequate medical care, social protection and protection from violence."  It is therefore necessary "to see how we can integrate the interventions that could reduce vulnerabilities and prevent adverse effects on children."