Welcome to UNICEF USA!
Stay informed on UNICEF's work saving and protecting children around the world
From January 19th to February 12th, 7,500 kids in the Bay Area participated in UNICEF Kid Power. By getting active with the UNICEF Kid Power band, kids can earn points, which unlock funding from partners, parents, and fans. For every 24,000 steps a kid takes, UNICEF will deliver a lifesaving packet of therapeutic food to severely malnourished children around the world. 
We celebrated UNICEF Kid Power in the Bay Area on February 1st at De Marillac Academy in San Francisco. Special guests R2D2, Chewbacca, and San Francisco 49ers Wide Receiver Torrey Smith surprised the kids at the pep rally assembly to thank them for being lifesaving heroes. The celebration included a physical activity where students, special guests, and Target volunteers earned several Kid Power points to feed malnourished children around the world. Students shared that their favorite part of UNICEF Kid Power is that they "get to save lives all around the world and it encourages them to stay active all day long".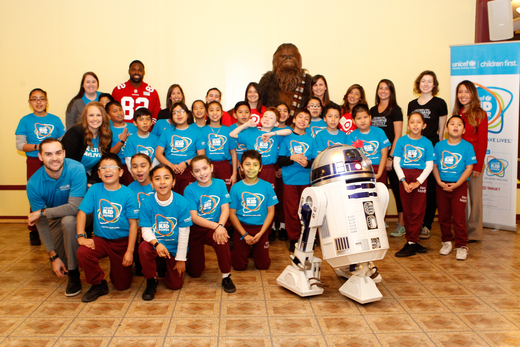 Check out the local news story here.