We spoke with Hector Espinal, UNICEF Communication Specialist in Honduras, to learn more about how UNICEF is tackling the root causes of child migration.
Q: What's it like for children in Honduras?
ESPINAL: Throughout the country we have a child mortality rate of 23 per 1,000. We have 900,000 children and adolescents who neither work nor go to school. We have 12 children who are assassinated every day [victims of gun violence]. Only 36% of adolescents reach secondary education.
Read UNICEF's report Broken Dreams, on the dangerous journey faced by child migrants from Central America.
Q: For those children who have tried to emigrate and been deported, what are their immediate needs when they're repatriated?
ESPINAL: For the thousands sent back, the first thing that their families need are job opportunities to meet their basic demands; if not, children will want to go to the U.S. Children also make the journey to the U.S. because they have been recruited or threatened by maras [gangs]. So when these children go back, the family is waiting for them, but then nearby a member of the mara is also waiting for them.
Q: Given those needs, what can UNICEF do for these children as they're being returned to Honduras?
ESPINAL: There are three things that can be done for these children. The first one is to support the families with a basic package of immediate needs, including a job. The second one is to accept all of these children in school, whatever their conditions. And the third is to ensure that those children who have been menaced mainly by the gangs are relocated in another community where their lives are not in danger.
WATCH THE STORY OF ALEXIS, A CHILD MIGRANT FROM HONDURAS WHO TRIED TO REACH THE U.S.
Q: What about the root causes of migration, the poverty and the violence?
ESPINAL: UNICEF is advocating with the government to address the root causes of poverty; to ensure that children have a protected environment, especially against organized crime and drug dealers; and to ensure that children are given back to their families.
Whenever the response has been systematic, it has been possible to revert violence and the causes of migration.
Whenever the response has been systematic, it has been possible to revert violence and the causes of migration. Government listens to UNICEF, and that credibility and capacity to change things is even more important at the local level.
Learn more about UNICEF's response to the child refugee and migrant crisis.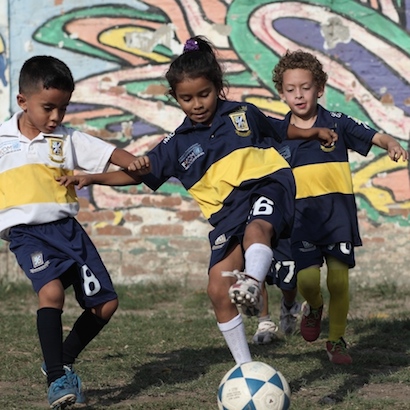 Read on: Child Migrants On the Run — Q&A with UNICEF El Salvador
Gordon Jonathan Lewis discusses the humanitarian situation at the U.S. border — and how UNICEF is working to make a better world for El Salvador's children.
Read the Full Story