Stolen Dreams: The Fight to End Child Marriage
If current trends continue, the number of child brides will skyrocket in the next 15 years.
Update 7/12: Signs of Change as Gambia, Tanzania Ban Child Marriage 
The small West African country of Gambia, as well as Tanzania in East Africa, have banned marriage for girls under 18. Gambia's president Yahya Jammeh announced that those who married girls under 18 could be jailed for up to 20 years. In Tanzania, the High Court issued a ruling banning marriage before the age of 18 for girls, when previously the minimum age had been 14.
In The Gambia some 30% of underage girls are married. In Tanzania the rate is 37%.
The legal landmarks are a big win for child rights activists, who will now have greater abilities to rescue girls from child marriages.
Every two seconds a girl becomes a child bride. Fifteen million girls a year are being married before they reach the age of 18.
A new UNICEF report released this week at the African Union Girls Summit in Lusaka, Zambia, warns that the total number of child brides could more than double from 125 to 310 million by 2050.
The consequences are disastrous for girls and the continent.
"Three girls in my village were forced to get married at an early age. Now the men abuse them in many ways." — Macy, 15, Malawi 
Child brides are less likely to finish school and obtain the skills that could lift them out of poverty. Their children are more likely to be extremely underweight, arrive stillborn or die soon after birth.
Early marriage can also kill the girl herself. Child brides are far more prone to fall victim to violence and diseases like AIDS. And early pregnancy and childbirth are leading causes of maternal mortality.
"The sheer number of girls affected -- and what this means in terms of lost childhoods and shattered futures -- underlines the urgency of banning the practice of child marriage once and for all," says UNICEF Executive Director Anthony Lake. "Each child bride is an individual tragedy. An increase in their number is intolerable."
The cause of this projected increase: The pace of African economic progress won't be able to offset rapid population growth projections.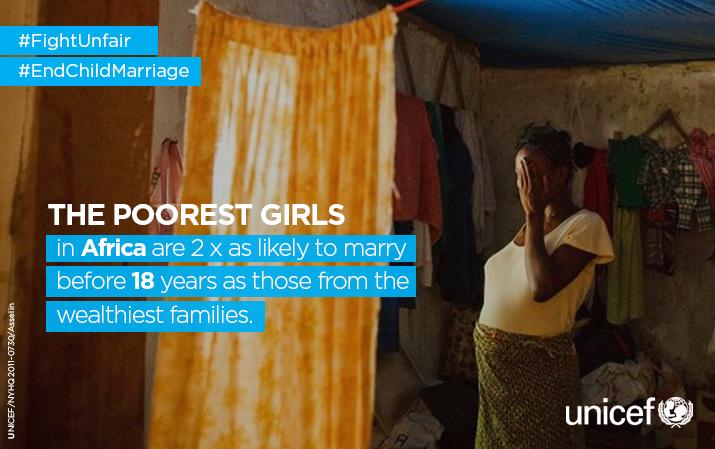 In Africa, the legal marriage age is 18, but poverty drives parents to break those laws, with long-standing traditions providing cover. In the poorest regions, child marriage rates haven't changed since 1990.
"I was still a little girl, and I wanted to study." — Florence, 14, DR Congo 
Social norms are a major culprit, deeply rooted in gender inequality and discrimination.
Last May, the African Union launched a continent-wide campaign to End Child Marriage. Strengthening laws prohibiting underage marriage and policies that protect girls' rights is a key part of the plan.
UNICEF is doing its part, helping to organize the End Child Marriage campaigns and working at the grassroots level to change families' minds about marrying off their daughters.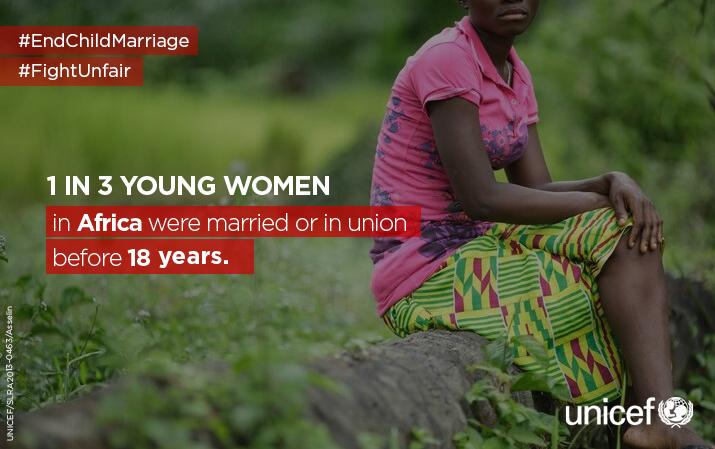 "I want the Government to create organizations to help girls from poor families," says 20-year-old Marthe from Cameroon. "When families cannot afford to send girls to school, early marriage becomes exploitation."
UNICEF programs to promote girls' school enrollment and retention are critically important. Keeping girls in school can tip the scales.
When 14-year-old Florence's stepmother tried to marry her off last year, she refused: "I was still a little girl, and I wanted to study," she says. Angered, her stepmother took her to the market and abandoned her there. Florence didn't try to go home. Instead, she found a way to stay in school. 
Now she has big plans for her future. "I want to go to high school and then become a tradeswoman. It was a good decision."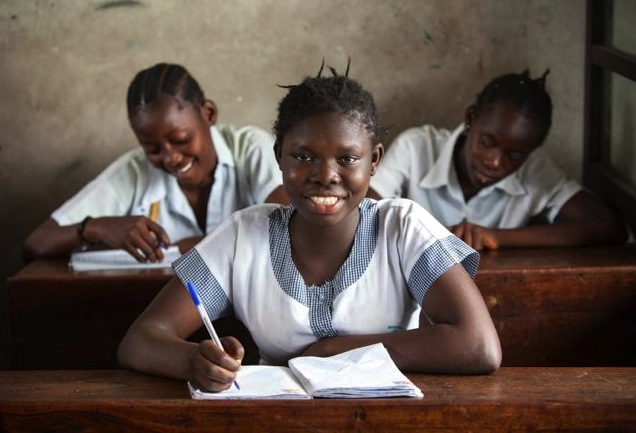 © UNICEF/GHAA2015-01344/Quarmyne