In South Sudan, Looming Famine Puts Children at Risk
Visiting with those displaced by conflict, UNICEF Executive Director Anthony Lake warns that children are at risk of malnutrition.
As rain bombarded the tens of thousands of people seeking safety in a U.N. camp in Malakal, most hurried to their plastic sheeting homes. The people of this ransacked city and their fellow citizens across South Sudan have been under attack since conflict broke out in December. First it was the mortars, then the looting, then more violence, followed by cholera and now torrential rains and -- in the words of UNICEF Executive Director Anthony Lake -- "looming famine."
Walking through knee-deep mud in a camp for people displaced by the violence, Lake first visited the feeding center and the emergency nutrition ward. Then he went from house to house. Lake had traveled to South Sudan with the World Food Programme's executive director, Ertharin Cousin.
"It's as bad as anything I have ever seen," Lake said. In parts, the camp looked liked a cyclone had torn through it: mud everywhere, chairs and beds floating in the water, families' household possessions sunken in green sludge.
In conditions like these, children face disease at every corner, which in turn puts them at greater risk of malnutrition. Beyond the people in the camp in Malakal, there are more than 500,000 others who have fled the violence and are on the run across their country.
Lake and Cousin fear that the world is allowing a repeat of what occurred in Somalia and in the Horn of Africa just three years ago, when early warnings of extreme hunger and escalating malnutrition went largely unheeded until official famine levels were announced.
Nearly 1 million South Sudanese children under five years old will require treatment for acute malnutrition in 2014, according to UNICEF and the World Food Programme. "There were children I saw today suffering from severe acute malnutrition who I thought clearly would not survive tomorrow," Lake said. "For these children, whether or not a famine is declared is immaterial. The world should not wait for a famine to be announced while children here are dying each and every day."
UNICEF has responded to the crisis in South Sudan in many ways: it has reached more than 40,000 children stricken with severe acute malnutrition, helped provide access to water and sanitation for 500,000 people and vaccinated hundreds of thousands of children. The need for further lifesaving help is urgent.
"I talked to two doctors in the camp's clinic, and they said they were making a terrible calculation," Lake said. "They can start to cut back now on the medicine they are giving to their patients because they don't know whether they will have supplies in a month or two; or they can give the patients everything they need now and pray that they get more supplies. As I looked around the tent and looked at the patients, I realized they only have one choice—the one that they are making—which is to continue to do everything they can now and just hope for the best."
UNICEF will continue to broaden its rapid-response air missions to the remotest parts of the conflict zones to reach the tens of thousands of children at risk, while also stressing that leaders must find peace for the children of South Sudan. Lake added: "We all have to do more, and quickly, to keep more children alive."
James Elder is UNICEF's Chief of Communication for East & Southern Africa. He is presently in South Sudan.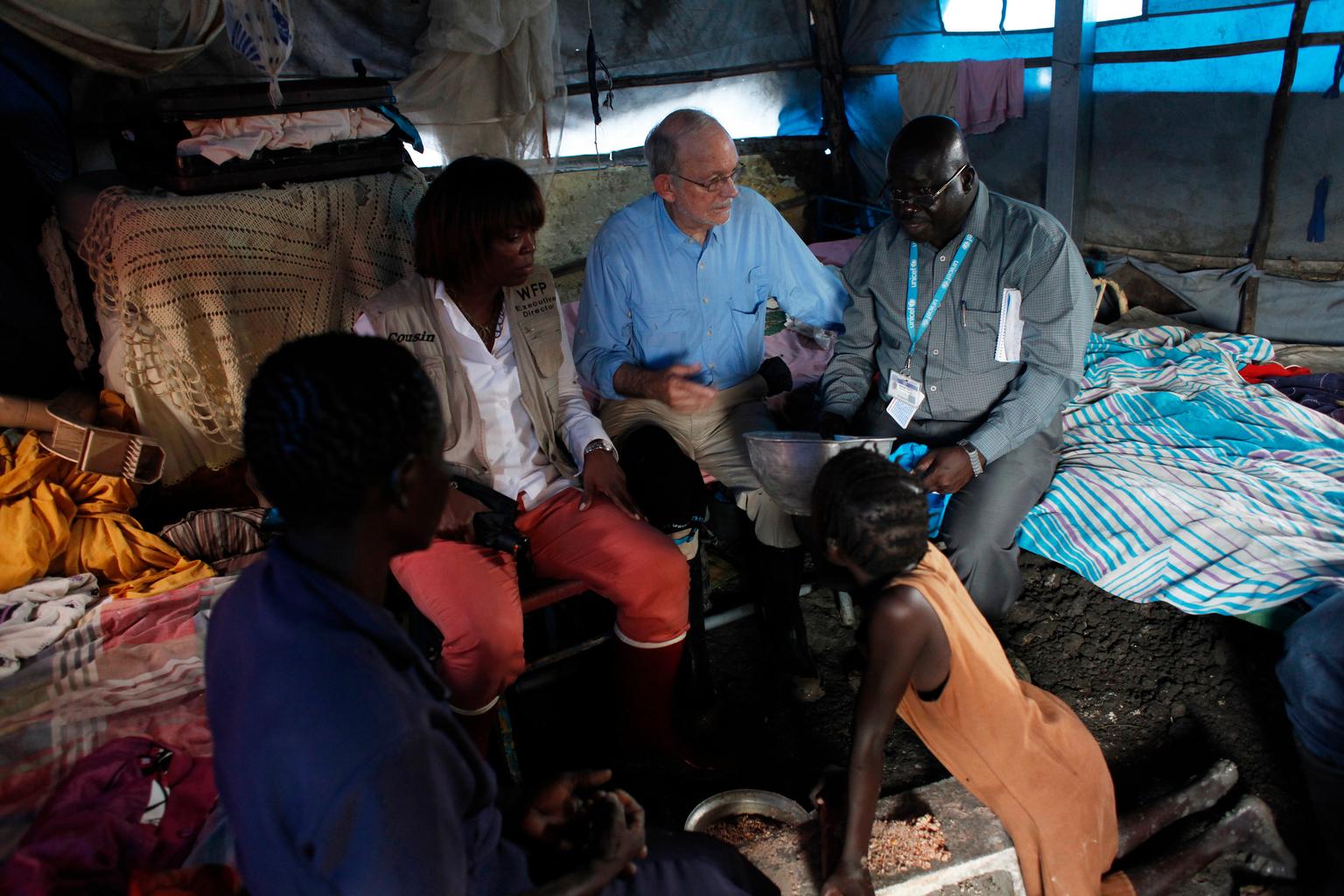 (Background, left to right) World Food Programme Executive Director Ertharin Cousin, UNICEF Executive Director Anthony Lake and a UNICEF worker meet with a woman and girl in their temporary shelter in a U.N. camp in Malakal, South Sudan. ©UNICEF/NYHQ2014-0985/Campeanu
© UNICEF/NYHQ2014-0986/Campeanu