Welcome to UNICEF USA!
Stay informed on UNICEF's work saving and protecting children around the world
It was a true pleasure to help plan and participate in our Shut Out Human Trafficking Week here at The University of South Alabama. It is difficult to describe how greatly the experience affected me.  Since graduating college two years ago, I have yearned to be a part of something that helped others and made a difference, and I believe the Shut Out Trafficking week is just such a thing.  We organized multiple campus-wide events, including:
·         A keynote address with Hannah Gould and Delise O'Meally with NCAS
·         Setting up tables at different locations with educational literature and an interactive "What Does Freedom Mean to You?" whiteboard
·         Hosting a film screening of "Not My Life," including a post film discussion with panelists of varying degrees of expertise.
·         A luncheon that also included a discussion with panelists
·         And a Fair Trade Market, featuring conflict-free products such as HonestTea, Equal Exchange chocolates, an Eye Heart World display and more.
The event opened the eyes of students by showing the magnitude of what human trafficking entails, and revealed the fact that it happens right here in Mobile!  This is a powerful message - raising awareness of this horrible treatment of human beings is critical to ending it.  Assisting with the Shut Out Human Trafficking Week was one of the most rewarding experiences of my life, and has inspired me to continue to serve others in some capacity.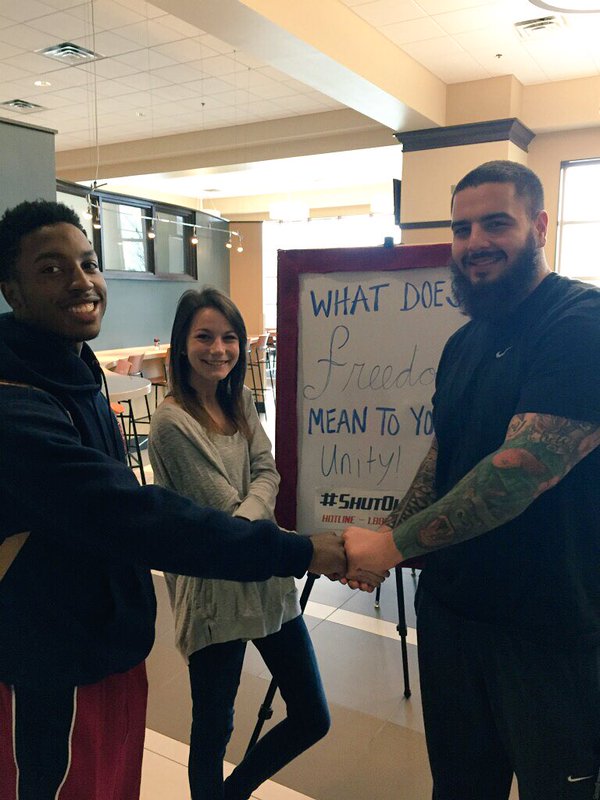 As for me, it was like a fire was lit. I have never been more excited and eager to continue the fight for humanity, and to continue working with great organizations like the U.S. Fund for UNICEF that strive to make a difference each and every day.