Rutgers University Student Takes Action to End Trafficking
Sarah Lin, a student at Rutgers University studying Urban Planning and Public Policy, collaborated with others across her campus to host Rutgers University's first Students Against Trafficking Week. The End Trafficking project at the U.S. Fund for UNICEF invited her to blog about her experience. 
At end of January – which has been declared National Human Trafficking Awareness month, six student organizations partnered to co-host a week of events, and together, we all formed a coalition with a commitment to preventing and ending human trafficking.
Over the course of the week, Rutgers International Justice Mission (IJM), Campus Coalition Against Trafficking (RUCCAT), GlobeMed, NO MORE, Sigma Psi Zeta, and the Rutgers UNICEF Club joined forces to conduct a social media campaign, table at student centers, host a documentary screening and educational workshop, and a "Take Action" event. By the end of the Students Against Trafficking Week, we had engaged over 80 students during the events and distributed 390 human trafficking fact sheets and 220 human trafficking indicator cards to members of our campus community. Many students deepened their understanding of trafficking and the concrete actions they can take to combat it, while others had conversations for the first time about just how severe the issue of human trafficking is.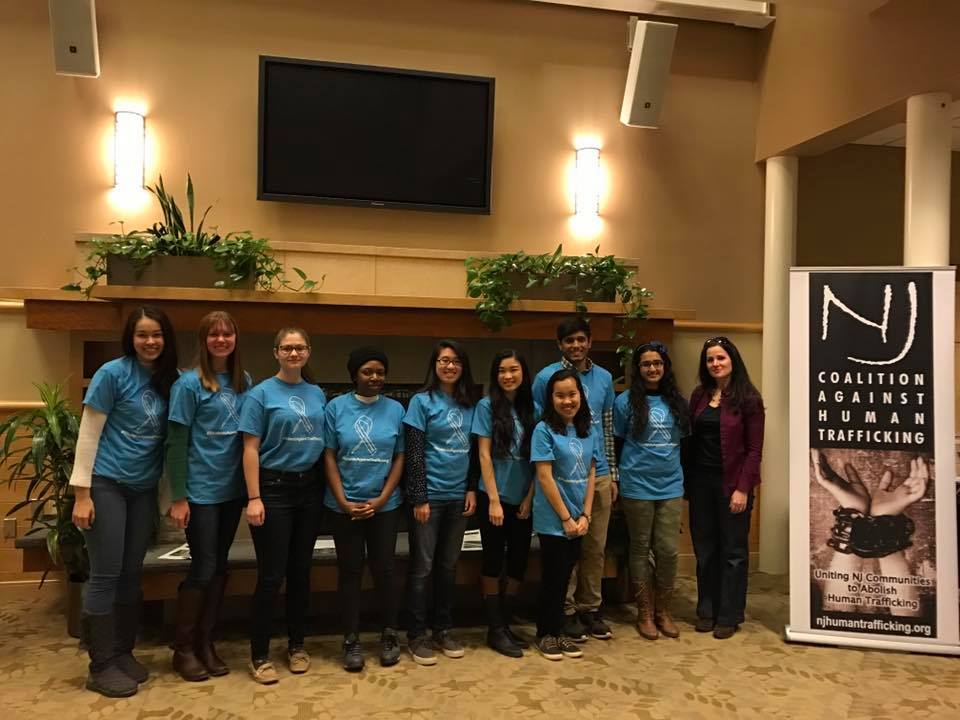 This series of events occurred after months of planning, leading meetings, gathering feedback, and more. The idea for a campaign like this first arose when I applied to the Clinton Global Initiative University (CGI U) last year with a project that focused on human trafficking awareness, education, and action among college students. While attending CGI U in the San Francisco Bay Area last spring, I met other student leaders working on human trafficking-related issues on their campuses and eventually got connected with the McCain Institute and its Student Alliance Against Trafficking, which both ended up providing many resources and financial support for our week. When I first began to understand the proximity and depth of human trafficking, I knew that I had to do something to bring this crime out of the shadows and incite more individuals to action; thus, it has been so encouraging to see countless students and institutions support this vision from start to finish.
Now that we have concluded the 2017 Students Against Trafficking Week at Rutgers, I am excited about how this week has served as a catalyst for more partnership initiatives to combat human trafficking, and look forward to more students stepping up to run this campaign every year from this point on. It comes as no surprise that human trafficking is an enormous and highly complex issue in our society. We can either choose to disengage and leave the hard work to others, or we can come together as college students to leverage our talents and resources to combat the injustice of human trafficking. As I've seen time and time again, and especially through the experience of coordinating this week, choosing the latter option is always the right choice. 
About the Author
Sarah Lin is a junior at Rutgers University in New Brunswick, NJ majoring in Planning and Public Policy and minoring in Political Science, Education, and Psychology. Sarah is passionate about getting college students actively involved in combating social injustices in our society and hopes to work in the fields of social and urban policy after graduation.