Nursed Back to Health
In South Sudan, the world's youngest country, malnutrition and food insecurity have reached all-time highs. Almost 5 million people — half the country's population — are severely food insecure. An estimated 1.25 million people are on the brink of starvation. Close to 280,000 children are suffering from severe acute malnutriton, a potentially life-threatening condition. UNICEF and partners treated more than 161,000 severely malnourished children in South Sudan in 2017. Two-year-old Maria is one of them. 
In October 2017, Maria was admitted to a UNICEF-supported inpatient stabilization center at Al Sabbah Children's Hospital in Juba, suffering from severe acute malnutrition, vomiting and diarrhea. She weighed just over 13 pounds. "There is nothing for us to eat at home," says Maria's mother, Gisma. South Sudan's economic crisis has pushed the inflation rate to 800 percent:  In October 2017, a 3.5 kilo bag of sorghum — a staple food — cost 395 South Sudanese pounds in Juba stores, compared with 16 pounds in January 2015. 
Juba, the capital of South Sudan, is located in a region once considered the breadbasket of the country. The vast majority of South Sudanese rely on farming, fishing or herding for their livelihoods, but civil war has forced huge numbers of people to abandon their homes, their fields and their cattle.
Maria, too weak to walk, sat quietly with her grandmother, Victoria, while a healthcare worker used a Mid-Upper Arm Circumference (MUAC) strip to screen her for malnutrition. "I was so worried and I didn't think she would become healthy without help, so my neighbors advised me to come here," says Gisma. 
A nutritionist at Al Sabbah Hospital prepared therapeutic milk for feeding Maria and other severely malnourished children at the stabilization center. The therapeutic milk is rich in nutrients, easy to digest and quickly provides malnourished children with the energy they need to recover. 
The therapeutic milk formula, called F-75, is used to treat the most severely ill children. After Maria gained enough strength to feed herself, she was given a different formula, F-100, the next step in the treatment process.
Once Maria's health stabilized, she was referred to a primary health center close to her home. The center receives 200 to 300 patients a week. Maria and her grandmother waited patiently for her to be measured and weighed. Then she was given a weekly supply of Ready-to-Use Therapeutic Food (RUTF) to take home.
Maria's condition continued to improve, but after she developed a fever with severe cold and cough, concerns about her health increased. A malaria test proved negative and she was treated with antibiotics. A severely malnourished child is nine times more likely to die than a healthy child.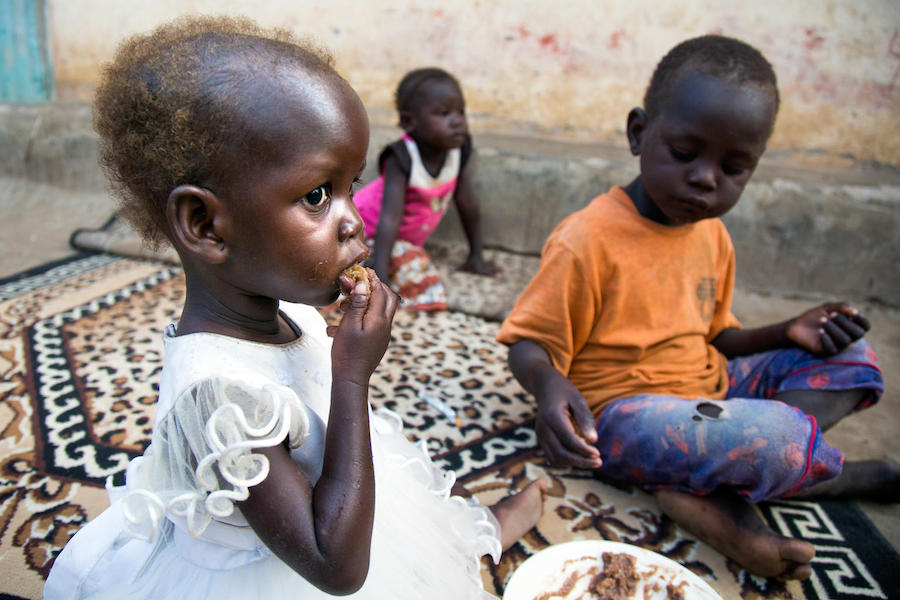 Maria and her brother Chris, 5, sometimes eats a meal of beans and rice when the family can afford it. Extremely poor diets, very limited access to health services, disease outbreaks and poor sanitation have increased acute malnutrition across South Sudan. "I don't make enough money to buy the right foods," says their grandmother.
Maria's family and friends had been preparing themselves for the worst and are grateful to have a healthy, happy child with them once more. "I can't believe it," says Maria's grandmother. "I saw Maria looking so weak, we weren't sure she would come home again."
Just over a month after diagnosis, Maria's stare is now an infectious smile. Since 2013, UNICEF and partners have treated over 600,000 South Sudanese children like Maria for severe acute malnutrition. Last spring, the UNICEF Kid Power Team unlocked 1.8 million packets of RUTF that UNICEF delivered to the children of South Sudan. Yet much more needs to be done to give every child in South Sudan the chance to live and thrive. 
All photos: © UNICEF/Gonzalez Farran
Want to make the world a better place? Help children thrive.
UNICEF Won't Stop until every child can survive and thrive.