Amid Great Wealth, Children in Need
At first glance, Indonesia looks like a shining star of development. It has been a middle-income country since the early 1990s and has an annual per capita income of about $4,000.
Yet huge segments of the population, including millions of children, have not benefited from Indonesia's impressive race forward, particularly in the slums of Jakarta and other cities and in rural areas such as Sabang.

Despite the prosperity of cities like Jakarta (above), middle-income countries such as Indonesia are home to nearly 75 percent of the world's poor. 
The country has the world's third-highest number of children who have not been immunized and the fifth-highest number of children suffering from stunting. More than 130,000 Indonesian children die each year from preventable diseases such as malaria, diarrhea and pneumonia.
"No one should die from a mosquito bite, especially no child."
UNICEF's role as a provider of emergency relief after the 2004 Indian Ocean tsunami is well known, but the organization's work helping Indonesia focus on the disparities that have accompanied its development is just as important. Peter Lamm, the U.S. Fund for UNICEF's National Board Chair, visited the country in August 2013. He explains, "Often, UNICEF's most important role is to advocate, to help identify where the most vulnerable children are lagging behind and help ensure that the government is effectively targeting the most marginalized."
Targeting Malaria
UNICEF's efforts to free Sabang from malaria's grip illustrate how this works. Despite Indonesia's prosperity, nearly half of the country's 240 million people are still at risk for the disease. Estimates of annual infections run into the millions, and more than 10,000 people may die each year from Plasmodium falciparum, malaria's most severe form.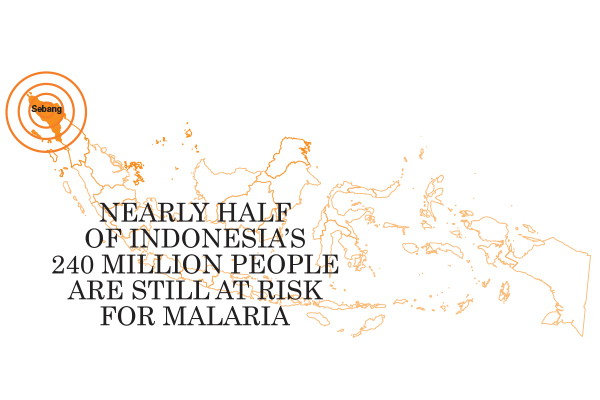 UNICEF Indonesia's malaria team is led by two experts in the field: Dr. William Hawley, a researcher in mosquito biology and malaria epidemiology on assignment to UNICEF from the U.S. Centers for Disease Control and Prevention, and Dr. Ferdinand Laihad, who served for 11 years as manager of Indonesia's National Malaria Control Program. In 2008, they began a project that focused a broad array of government and community resources on eliminating malaria in Sabang to create a replicable, scalable program for the whole country.
"Since Adelia's recovery, there hasn't been a single additional case ... "
"Sabang is like a living laboratory," says Dr. Herdiana Herdiana, UNICEF's Child Survival and Development Officer in Aceh. "We've started to build a model for elimination."
The model requires an extensive range of partnerships. Working with the World Health Organization and the Indonesian Health Ministry, UNICEF helped rally local and provincial governments behind the effort, engaging mayors, military officers, health workers, public information officials and even authorities at the island's ports to prevent the reintroduction of the malaria parasite by sea. Field volunteers were taught to recognize and treat the disease, and lab technicians were trained to test blood samples.
This first phase was followed by a powerful public awareness campaign and a massive community-by-community effort. Waves of volunteers went house to house, collecting blood samples, distributing insecticide-treated bed nets and finding and eliminating the hiding places where mosquitoes could breed.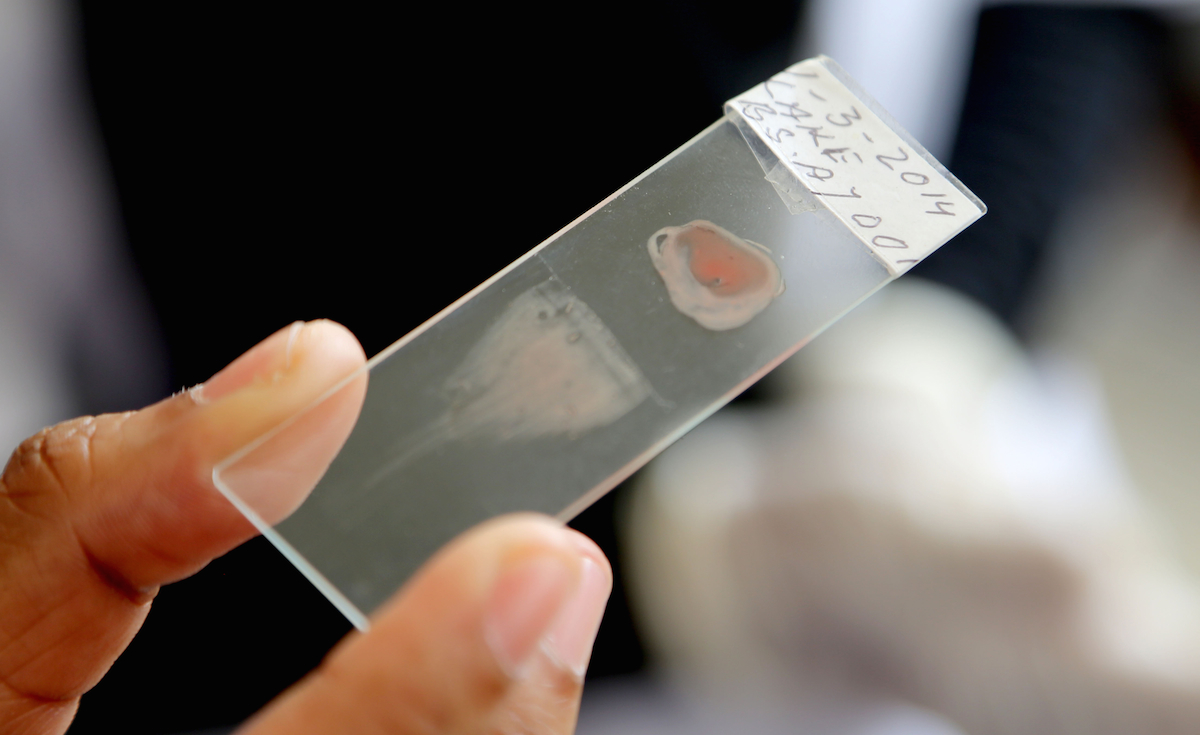 Blood screening tests were an important element of the malaria control strategy. © UNICEF/NYHQ2014-0247/Estey
"Using bed nets and spraying against mosquitoes all bring the caseload down to a low point – but at that stage you have to focus on finding the parasite and wiping it out before it can be transmitted again," says Hawley.
"Ultimately this approach is going to make malaria a thing of the past. "
"Sabang is the first district in Indonesia to take on this approach, with a clear focus on tracing the parasite through universal testing and then treating carriers before the disease can be spread by another mosquito – ultimately this is going to make malaria a thing of the past."
The blood testing earned many volunteers the nickname "Dracula," but the dedicated health workers didn't mind in their pursuit of a lofty goal. "I want malaria to be eliminated from my island," says Srikayanti, one volunteer. "It's ridiculous. No one should die from a mosquito bite, especially no child."
Moving Forward and Scaling Up
Srikayanti was the volunteer responsible for Adelia's treatment in Batee Shok village. Each day, she arrived at Adelia's home to make sure that she followed her combination therapy treatment and avoided becoming a vehicle for the disease's continued transmission. This intensive, broad-based effort succeeded. Since Adelia's recovery, there hasn't been a single additional case of indigenously transmitted malaria on Sabang. 
It's a sea change for a once badly afflicted community. "Almost all my neighbors had fever and headaches," noted Ibu Symani, a mother of eight children and grandmother of five, as a volunteer health worker drew her blood. "Now, the situation is changing."
The lessons learned in Sabang are being applied in seven more districts in Aceh province. While Sabang is a small island at the far tip of this nation of 18,000 islands, there are many reasons to believe the program is replicable on a much larger scale.
The success of the program was determined less by geography than by human factors: determined health workers, political commitment and strong local support. If a community is motivated to carry out a technically sound program, then malaria elimination will likely be achievable anywhere in Indonesia.