Around 500,000 people, up to half of them children, have been forced to flee their homes since violence erupted on June 5 in the Iraqi city of Mosul, authorities say, and the violence is spreading. One report described a school directly targeted by mortar fire with multiple child casualties. UNICEF has condemned the attack, calling it "a grave violation against the rights of the child."
"I don't know where my friends are," says 11-year-old Abdelrahman.
Thousands of children have taken refuge in schools, hospitals and mosques, many without adequate water, sanitation or shelter from the scorching heat. Inside Mosul, Iraq's second largest city, UNICEF has received reports that none of the five hospitals is functioning.  Shops and markets are closed. 
"The situation facing children is extremely alarming," said Marzio Babille, UNICEF Representative in Iraq. "Their lives have been shattered almost overnight by the escalating violence." 
UNICEF Mobilizes to Aid Displaced Families
UNICEF is working with its partners in Iraq to meet the rapidly rising needs of displaced Iraqi families and children and those who remain behind. Immediate priorities include safe drinking water, sanitation facilities and emergency immunization. UNICEF's emergency appeal for Iraq was only 16 percent funded before the violence erupted, and the escalating crisis will increase the need for humanitarian assistance.
"This is an emergency on top of an emergency in Iraq, coming on the heels of other internal displacements of children and families in Anbar, as well as Syrian refugees in the north," Babille said.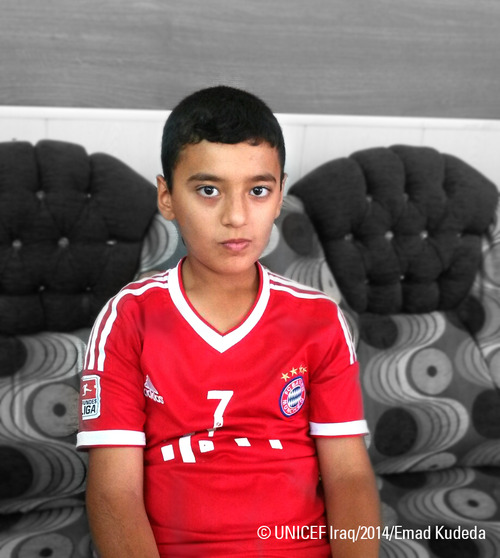 Abdelrahman, 11, fled with his family when violence broke out in his hometown of Mosul. "I don't know where my friends are," he says. © UNICEF Iraq/Emad Kudeda