Liberia Declared Ebola-Free
UNICEF hails Liberia's victory — achieved after marking 42 days without a single new case — but warns that the battle is still being fought in Guinea and Sierra Leone.
Liberia announced today that it has reached zero Ebola cases, and UNICEF commended the critical role communities played in beating back the epidemic, but warned that the threat posed by the deadly virus will not disappear until there is no longer active transmission in affected neighbouring countries.
It is a tremendous tribute to communities which have played a central role in the battle against Ebola.
A country is considered free of Ebola transmission if it records no further cases over a 42-day period. The last person infected in Liberia was safely buried on March 28. But surveillance continues, particularly along border areas. Partners in the response stand ready to act rapidly should there be a new outbreak.
As part of the preparedness, UNICEF has helped set up Rapid Isolation and Treatment of Ebola (RITE) kits that can deployed to any new Ebola hotspot, and has trained community leaders on communicating the behaviour needed to keep people safe.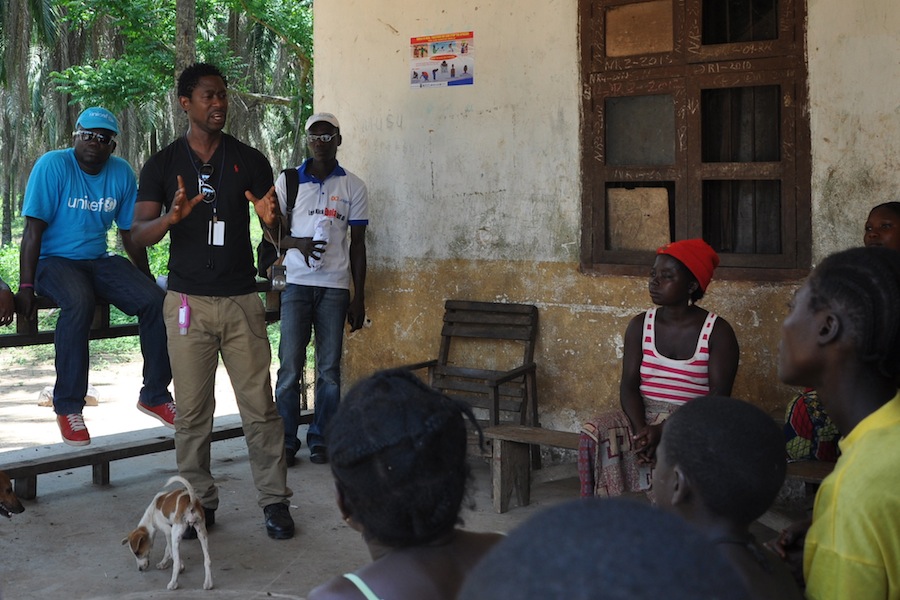 The tireless efforts of community mobilizers were key to halting the spread of Ebola in Liberia. Read: "I won't take breaks until it is gone." © UNICEF Liberia/2015
At the height of the crisis, Liberia recorded more than 400 cases a week. Towards the end of the year, the country had clearly turned a corner, as communities increasingly took it upon themselves to battle the crisis. Increasingly, they adopted safe behaviours – such as not touching bodies during funeral ceremonies and assuming responsibility for tracking down and reporting suspected cases.
 At the height of the crisis in late August and early September, Liberia recorded more than 400 cases a week.
One of the main partners in the response to the Ebola crisis, UNICEF supports efforts to strengthen basic services, including health and education which suffered serious setbacks as a result of the Ebola outbreak. "In the longer-run there is a need to rebuild a better health system, with the capacity to identify and respond to any future outbreaks, be it Ebola, measles or pertussis," said Yett.
UNICEF also engaged in extensive community mobilization and awareness efforts, and distributed more than 50,000 hygiene kits, which played a key role in helping to keep family members from spreading the disease to one another.
Massive amounts of clean water for Liberia's Ebola treatment centers were necessary in the country's fight against the disease.
"We need to continue to build on the decentralized and community-based surveillance, social mobilization and response systems that have been put in place, and for that, continued funding will be needed." UNICEF is committed to helping Liberia capitalize on the gains made in positive social behaviour, and to help apply social mobilization and community engagement to recovery efforts.
The regional threat will not disappear until there is no active transmission in neighbouring countries.
This is already taking place, with thousands of UNICEF-supported community mobilizers deployed in support of a measles and polio immunization campaign from 8-14 May. Together with its partners, UNICEF has helped reach more than 400,000 households through door-to-door visits, and more than 1 million people through community discussions and meetings. UNICEF has also trained nearly 19,000 traditional and religious leaders and over 7,000 frontline mobilizers to support community engagement in Liberia.
Traditional and religious leaders continue to play an important role in West Africa's battle against Ebola.
The U.S. Fund for UNICEF extends it deepest appreciation to the many individuals and organizations who generously donated to support UNICEF's work in the Ebola-affected countries.
© UNICEF/NYHQ2015/Grile