Welcome to UNICEF USA!
Stay informed on UNICEF's work saving and protecting children around the world
UNICEF and the American Museum of Natural History collaborated together for a special event where thousands of museum visitors celebrated Kwanzaa. The rights of African children were celebrated and talked about as well what was considered important to children all around the world. Almost 10,000 people visited the museum that day and participated in activities that brought joy to everyone. 
Celebrated worldwide, Kwanzaa is a seven-day spiritual gathering that focuses on family, community, creativity, and the cultural traditions found in the African diaspora. Founded by scholar and activist Dr. Maulana Karenga in 1966, Kwanzaa brings millions of families together. Dr. Maya Angelou once said, "While Kwanzaa's roots are embedded in Africa's rich soil, its broad branches and colorful leaves grew from the African American experience, and later found expression throughout the worldwide African communities. From the depths of our struggles, to the height of our victories, even when faced with ferocious adversity, indeed it is our remarkable courage that brought about significant changes in every conceivable sphere of American life."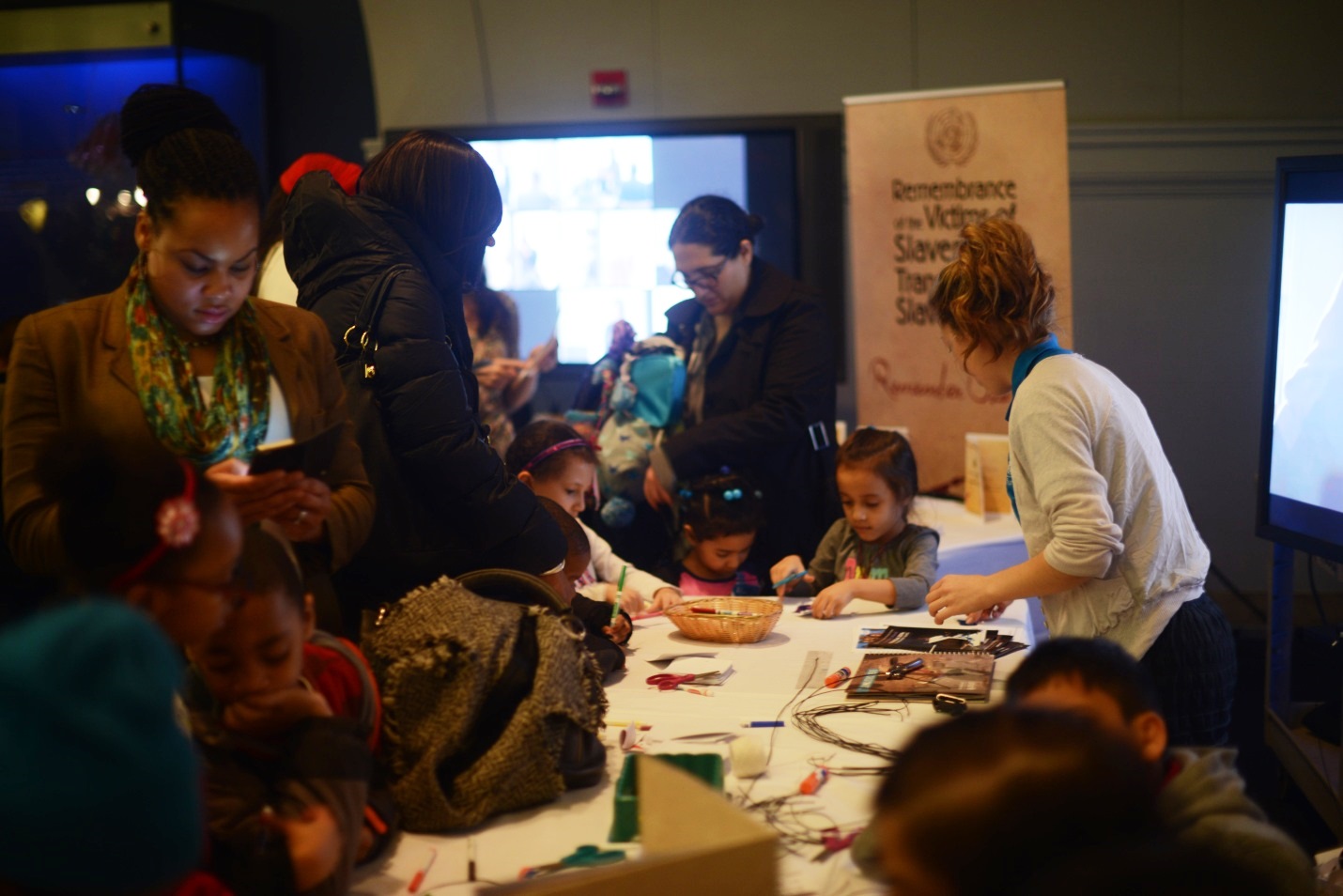 Kwanzaa has seven guiding principles (Nguzo Saba): Umoja, Unity; Kujichagulia, Self-Determination; Ujima, Collective work and responsibility; Ujamaa, Cooperative economics; Nia, Purpose; Kuumba, Creativity; Imani, Faith.
The U.S. Fund for UNICEF and the American Museum of Natural History partnered to celebrate the theme of Umoja, Unity, to unite for the world's children. Given that 2014 was a very challenging year for children all around the world from South Sudan to the Central African Republic, it's very important to put children first amidst turmoil and turbulence.
Kids made peace doves to represent their intent to build a world filled with peace and justice, a world where the destruction and devastation that culminated 2014 as the worst year for a child can be set right. Kids got to make peace ornaments or badges, coloring and cutting, dillying and dallying to put children in other parts of the world first. Kids got to cut out these peace doves and either create an ornament or a badge, whatever their preference. After creating these peace doves they reflected upon what peace means to them and what children's rights they think are the most important. The peace dove is the official symbol of the United Nations for International Day of Peace, which takes place on September 21st.
Stories were shared from across oceans, of Ebola survivors and innovators. Stories about how innovation, the focus of the 2014 State of the World's Children Report, are making great strides to change the lives of thousands and thousands of empowered youth to make change in their own communities were also shared. These stories are one of many of the impact that innovation is having on the world's children. At the American Museum of Natural History, children from New York City and abroad took a stance to say that they are for peace by uniting for the world's children through building peace doves and celebrating Kwanzaa. It was a holiday activity to rejoice in, a fun day at the world's premier natural history museum, and a celebration underneath a massive big blue whale.