How UNICEF Helps Prevent Ebola in Liberia
In one badly affected community, more than 100 UNICEF workers are on the front lines in the fight to stop Ebola.
Carolyn Marie Kindelan is a Communications Officer with UNICEF Liberia.
"They told us how to protect ourselves ... They brushed the doubt from my mind."
Armed with posters and flipbooks and dressed in thick rubber boots to withstand the heavy rains, Anthony Vorkpor is out to stop Ebola. Vorkpor and his team are UNICEF's frontline workers in the fight against Ebola, a disease that has been linked to more than 700 deaths in Liberia since March. The workers are called "animators," and they play a crucial role in stopping the spread of this virus through education in communities such as New Kru Town, a densely populated borough in Liberia's capital city of Monrovia.UNICEF has over 100 animators and communicators going house-to-house in Lofa and Montserrado Counties, the epicentres of the Ebola epidemic in Liberia. They work with communities to increase awareness of the disease and clarify misconceptions about the virus and how to protect oneself against it.The animators are trained to ask questions to make sure people are absorbing the information that's shared, and to repeat what they've said, slowly and patiently, until it is retained. Since animators are assigned to specific communities for months, they can check up on particular families to see if they are adopting the protective behaviors and practices that were suggested.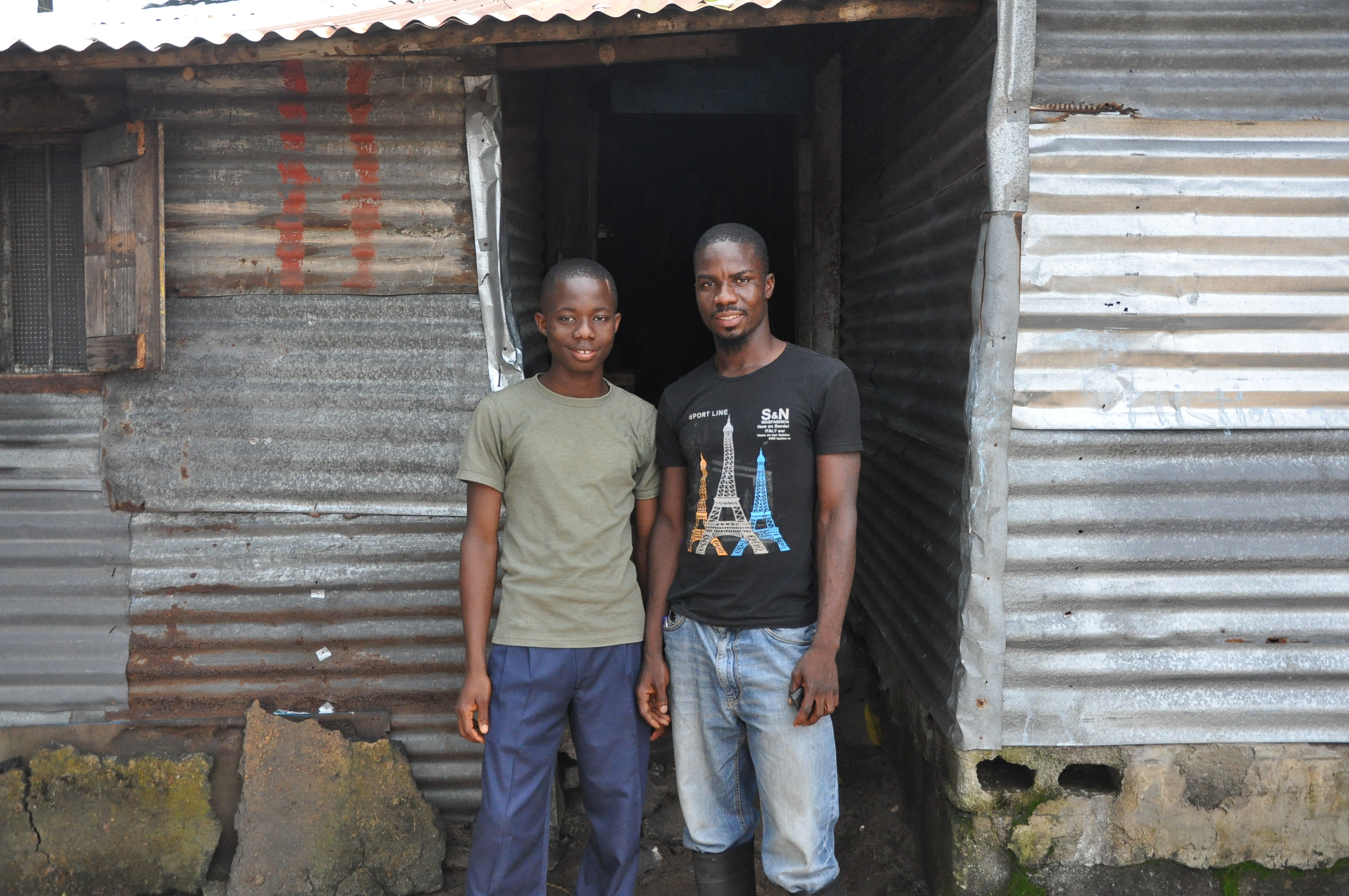 Lee Wlejleh and Anthony Vorkpor go house-to-house to make sure the people of New Kru Town, Liberia, get accurate information about Ebola. (c) UNICEF / Liberia / 2014 / Carolyn Marie Kindelan
Since late May, more than 1,300 suspected, probable and confirmed cases of Ebola have been reported in 12 of Liberia's 15 counties. Recognizing the devastating impact Ebola could have on children, UNICEF has been working closely with the Ministry of Health and Social Welfare to stop its spread. In addition to providing critical supplies and offering technical expertise, UNICEF is responding to the urgent need to stop the spread of rumors and misconceptions about Ebola. UNICEF is working with its existing partners to go into Liberian communities to conduct door-to-door education and awareness campaigns. Vorkpor and his team are from one of these organizations, known as CODES or, Community Development Services.
They use posters and flipbooks developed by UNICEF that clearly explain some of Ebola's symptoms and modes of transmission, and what individuals and families can do to protect themselves from it. The animators sit with community members and go through the flipbooks page by page. Sometimes, this process can take an hour or more. Their patience and persistence pays off. Victoria Wesseh, a resident of New Kru Town, says that when she first heard about Ebola from the news and other sources, she doubted the existence of the virus. CODES visited her home more than three times, eventually breaking through her wall of suspicion. "They told us how to protect ourselves," she said. "They told us we shouldn't be afraid and encouraged us to go to the clinic. They brushed the doubt from my mind."
Working with the Ministry of Health, UNICEF plans to train up to 1,250 Government Community Health Volunteers in six counties. This network of outreach workers will work across Liberia to deliver lifesaving messages to even the most remote villages.
UNICEF/NYHQ2014-1020/Jallanzo