"Kore Fanmi" means "family support" in Haitian Creole, and it's the name of a pilot program aimed at helping the bottom 20 percent of Haitians, no matter where they live.
The innovative program uses locally made technology to gather data about extremely vulnerable families in remote communities. The data is then used to create a personalized response plan. Kore Fanmi was launched two years ago by the government of Haiti in partnership with the World Bank and UNICEF.
A Kore Fanmi agent inputs data about a family in southeast Haiti using a locally made tablet. (c) UNICEF Haiti/2014/Nybo
Made in Haiti
"The community is very motivated. They see it as their program."
Kore Fanmi agents use electronic tablets to record personal details as part of a survey aimed at identifying the country's most vulnerable families. The latest tablets are manufactured by Surtab, a company based in the Haitian capital of Port-au-Prince where the workforce is primarily women.
The information gathered in the field is transmitted wirelessly to a central database. This allows officials to create a personalized plan that responds to specific factors, such as whether children are in school, what they're eating and how often.
Kore Fanmi agents visit each family twice a month for a check up, and each follow-up visit ensures that the family gets connected to the services they need.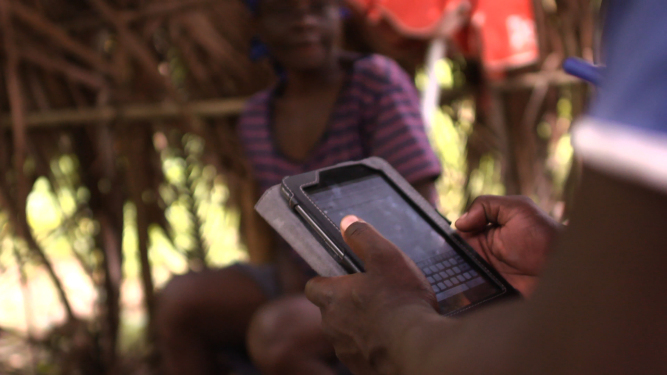 The tablets are produced by Surtab, where 90 percent of the staff are women. (c) UNICEF Haiti/2014/Nybo
Neighbors helping neighbors
What's important is that the data collection agents are part of the communities they work in. "They are not outsiders, so they have the motivation to improve their community," explains UNICEF's Tara Yip-Bannicq.
If a person is sick, the agent will refer them to available medical services. If the family lacks a latrine, the agent will give them training on how to build one. Agents also connect vulnerable families with neighborhood meetings.
"The community is very motivated. They see it as their program," says Samuel Desruisseaux, a Kore Fanmi Communal Coordinator. "Once the community understood the point of Kore Fanmi, they went to find other families to make sure everybody was included."
Thomas Nybo is a consultant with UNICEF Haiti. This post was adapted from an original post published on the UNICEF blog.
Read on: In Remote Villages, a Simple, Scaleable Program for Midwives
In rural Indonesia, midwives are often responsible for children's health — and they played a key role in the Sabang malaria pilot. Yet many have limited access to medical information. A new UNICEF-supported program changes that, getting vital information to midwives through text messages.
Read the Full Story