How UNICEF Kid Power Saves Lives
Here's how it works: Kids wear a UNICEF Kid Power Band, a child-friendly fitness band they can use with the free Kid Power companion app. Kids go on missions through the app, learn about new cultures and earn points for completing activities and challenges. These points unlock therapeutic food packets that UNICEF delivers to severely malnourished children around the world.
The more kids move, the more points they earn, and the more lives they save! Guests will be able to follow along on the UNICEF Kid Power website to track the total points earned, therapeutic food packets donated and impact made by kids all over the U.S. 
" The therapeutic food packets unlocked by UNICEF Kid Power will help millions of severely malnourished children." —U.S. Fund for UNICEF President & CEO Caryl M. Stern
And, the program already has a No. 1 fan: GRAMMY®-winning recording artist and UNICEF Kid Power spokesperson, P!nk. "Healthy living and positivity are at the center of my life," she says. "With UNICEF Kid Power, kids and families can move and have fun, all while saving the lives of children around the world. I'm raising my daughter to be strong, healthy and giving. As a mom, the fact that UNICEF's lifesaving work is powered by kids is really exciting. Every child deserves a healthy start at life, no matter where they live and Kid Power is helping to make that possible." 
Target also will help expand Kid Power in schools across the country so that kids - who might otherwise not be able - can participate in the program to get active, save lives, and learn about helping others. Next year, Target will join Disney, Star Wars: Force for Change and local supporters to enable high-need schools in several markets to sign up for the program, completely free of charge. Schools will receive Kid Power bands for their students, classroom tablets for syncing and tracking progress, and standards-based curriculum and content on malnutrition and global citizenship for keeping kids inspired and engaged.
And, we know it works. Kid Power has already successfully empowered more than 12,000 kids to get active and save lives. In March 2015, participating students in Boston, Dallas and New York schools walked more than 500,000 miles, unlocking 188,850 therapeutic food packets—enough for 1,259 children to receive a full course of life-saving treatment. Through this partnership, Target will help grow the Kid Power program to reach up to 70,000 students next year.
"Together, we're putting children first by working to end global malnutrition, which contributes to nearly half of all deaths of children under five. The therapeutic food packets unlocked by UNICEF Kid Power have the potential to transform the lives of millions of severely malnourished children," says Caryl M. Stern, president and CEO of the U.S. Fund for UNICEF. "The U.S. Fund for UNICEF is thrilled to partner with Target to empower families and students across the country to get active, save lives and make a difference."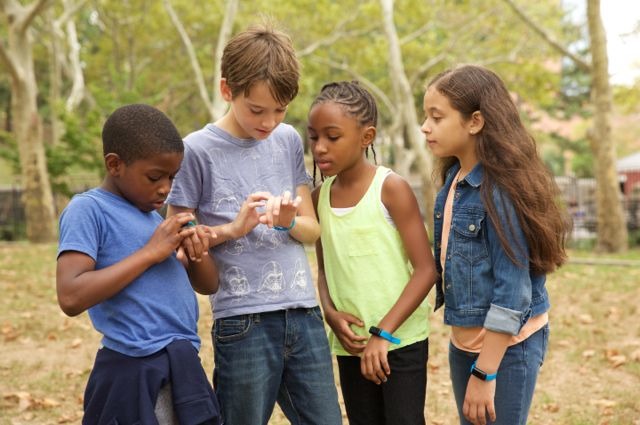 The one-size-fits-all UNICEF Kid Power band comes in four colors: blue, orange and two special Star Wars: Force for Change editions in black and white. The bands go on sale at Target.com beginning Nov. 29, just in time for the holidays, and are available now for pre-order.*
* For each UNICEF Kid Power Band purchased in US Target stores and target.com between 10.13.2015 and 12.31.2016, Target will donate $10 to United States Fund for UNICEF. The more kids move, the more Kid Power points they earn. Kid Power points are converted to funding by partners, parents and fans. UNICEF uses funding to deliver lifesaving packets of therapeutic food to severely malnourished children. The Kid Power donation/program is not being administered by Target. For more information on the UNICEF Kid Power program, visit www.unicefkidpower.org. The U.S. Fund for UNICEF does not endorse any brand or product. Donation is not tax deductible for guests.