Welcome to UNICEF USA!
Stay informed on UNICEF's work saving and protecting children around the world
A good book has the ability to inspire and open our minds to situations around the world that we would never otherwise comprehend. Ishmael Beah's book, "A Long Way Gone, Memoirs of a Boy Soldier," takes the reader to rural Sierra Leone.   It provides the reader with a vivid glimpse into the life of a child struggling to survive in the midst of war.  It also gives great insight into the incredible work of UNICEF, which Beah credits with saving his life.
On October 21, I had the honor of meeting Ishmael Beah in person.  He spoke to a group of eighty local UNICEF supporters during a luncheon at Arlington Hall at Lee Park in Dallas.  While his book is inspiring, meeting him in person was even more so.  He told the attendees about his journey and the impact that UNICEF had on his life. 
Beah helped the group to understand how orphaned children are easy targets for warlords.  Children can be easily influenced and they have a strong desire to belong to a community.  As such, they can be pulled into the life of a child soldier and convinced to perform acts of violence on their own communities.  They are easily manipulated and often willingly enter into more risky situations than an adult would.  Beah was one of these children until UNICEF saved his life.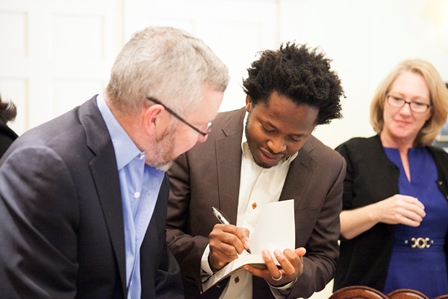 Those working in the field for UNICEF must truly have an incredible amount of courage and determination.  As Beah described it, they simply showed up one day on peaceful terms at his rural army encampment.  They would come back again and again until one day Beah found himself in a vehicle with other children leaving the army behind.  UNICEF had peacefully negotiated his release with the army's warlord.  Beah was taken by UNICEF to a rehabilitation facility in the city of Freetown.  After eight months he was reunited with an uncle who lived in the city and eventually found his way to adopted parents and an education in the United States.
He wanted to emphasize the fact that we, as UNICEF supporters, made a very significant difference in his life! Whether or not we get involved, does matter.
Ishmael Beah's story underscores the importance of UNICEF's work in over 190 countries and territories throughout the world.  They are the world's greatest advocate for children and are willing to go to great lengths to protect them.  I would strongly encourage anyone to read Ishmael Beah's book.  He will take you on an incredible and inspirational journey.  Please join me and other advocates in North Texas who are working to protect children around the world through UNICEF.