Written contributions by: Deanna Sortino and Tammy Wen
Ms. Deanna Sortino is the sponsor and advisor of the Niles West UNICEF Club. Together with president Tammy Wen, vice president An Luu, secretary Mintra Osmin, and treasurer Amanda Lay, the club entered its first official year with enthusiasm to achieve the goals of the Niles West UNICEF Club. Visit our website here: https://sites.google.com/a/d219.org/nw-unicef-club/
How did Niles West UNICEF club come to be and how is it being integrated into design?  
Niles West Art Teacher, Deanna Sortino, was contacted by fellow Notre Dame graduate Ashley Lucchese--also a UNICEF NextGen member--in the Spring of 2015 asking if her students would be interested in collaborating with the UNICEF Nicaragua office. As a design teacher, Deanna was asked to support her students in creating infographics on Commercial Sexual Exploitation and Trafficking, as well as Real-Time Monitoring Educational Management for UNICEF Nicaragua. Ms. Sortino was excited to give her students real world design experience, so she eagerly agreed to take on this task. The class became experts on the branding guidelines of UNICEF and began to tackle this major task. They soon 
became so engaged in this project that they quickly realized they wanted to continue this work. After a few students attended a UNICEF conference in Chicago, talked to a UNICEF staff member, and received approval from the school's Activities director, a Niles West UNICEF club became a reality in the fall of 2015.
Now, Ms. Sortino continues to promote the mission of UNICEF in her Graphic Design classes by working closely with the club. Many UNICEF club members in her class created posters about Human Trafficking for their recent Social Activism project. One member, Francesca Guinta, designed a poster that prompted her peers to go online and learn about the presence of child and forced labor as part of the supply chain for their favorite brands. Most students were shocked to see their frequented coffee shops and retail stores poor scores on their "slave labor report card".  
 See more of Ms. Sortino's students' artwork inspired by UNICEF's mission here
At this year's Activities Fair for 8th graders, the UNICEF club experienced an unprecedented interest from future high schoolers. Club members attached messages to Fair Trade lollipops to hand out and talk about UNICEF's mission and what they do as a club. The number of 8th graders who want to join next year is a club's success and rapid growth.  
The Niles West UNICEF club has also had the opportunity to collaborate with other clubs. We work frequently with the National Art Honor Society Club to promote UNICEF's mission through art. In October, we NAHS worked with the UNICEF Club to do face painting as an additional fundraising initiative for Trick-or-Treat for UNICEF. Later this month, they will also work together to sell artwork to fundraise for Art in a Box, a UNICEF initiative that helps children overcome the trauma of disasters and conflict through art therapy.
Finally, one of the club's most meaningful experiences was through a collaboration with Chicago's UNICEF NextGen. When NextGen Chicago hosted an Art Party this past fall, the club members of Niles West were asked to submit their own artwork for display,along with  the infographics they created for  UNICEF Nicaragua. Eleven students' artwork were accepted and invited to attend the Gallery.  The sale of the students' artwork, along with the postcards of their photos, raised over $2,000 for UNICEF NextGen! It was so much fun to see parents and students in a downtown gallery coming together for UNICEF, and we hope to continue this event with NextGen next year.  
What has Niles West UNICEF club been up to this year?
 After starting the year with UNICEF NextGen's Art party, the Niles West UNICEF High School Club began recruiting new members and educating one another on UNICEF's work. We invited Chicago Community Engagement Fellow, Whitney Cross, come talk to us about UNICEF and its mission. The members were passionate about helping kids throughout the world and they were excited to kick off the club's first official event with Trick-or-Treat for UNICEF. The passion and dedication of our club members was truly evident when we raised over $700 for this event.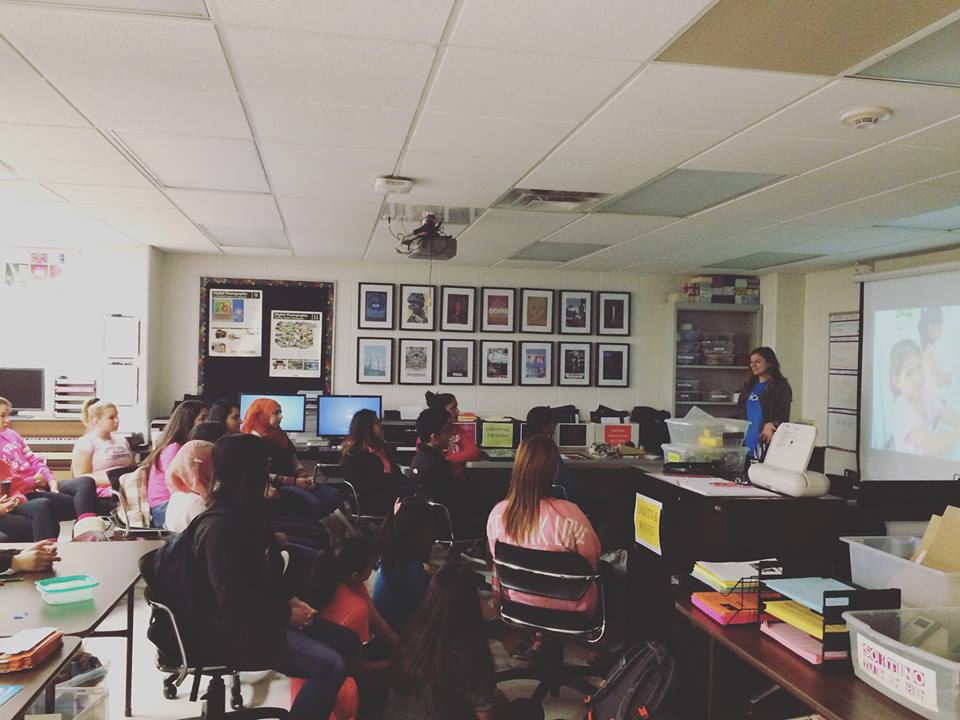 The winter months welcomed a new year and focus for the Niles West UNICEF club. As a high school club that strives towards improving the lives of children, we wanted to establish more awareness and knowledge regarding the issue of human trafficking by supporting UNICEF's End Trafficking Campaign. We encouraged members to visit www.slaveryfootprint.org to see how many slaves worked for them. The numbers were shocking, and we talked about why that number was so high and what we could do within our own lives to help bring that number down. We talked about buying fair trade products, researching our favorite stores and trying to buy local products. Ms. Sortino also brought this information to the attention of her 2-D Design class during a t-shirt design lesson. At the end of the lesson, she stated that,"as a designer, it's imperative to be a socially conscious consumer." As a class, they decided to spend a little more money on a t-shirt brand with a more transparent supply chain.
While on a flight back from San Francisco, Ms. Sortino ended up watching a MSNBC special called Sex Slaves: Fighting Human Trafficking. Within the special, they talked to Brenda Powell who helped start the Dreamcatchers Foundation, a non-profit organization that works to help end human trafficking in Chicago. Inspired by the film, Ms. Sortino further researched the foundation and the work of Brenda Powell and loved that this was an organization that works to fight human trafficking in Chicago. We decided to have a walking bake sale, and used the $175 that we raised for this organization to provide clothing for two human trafficking survivors in Chicago. After the fundraiser, we signed various petitions that would inspire legislative action towards the end of human trafficking and forced labor.
To wrap up Human Trafficking Awareness month in January, we hosted a film screening of Not My Life, a documentary that highlights various types of human trafficking throughout the world. After watching the film and discussing the issue with Whitney Cross, we felt that we had a better understanding of human trafficking and the types of labor affecting women and children. Our continued education on human trafficking has also been noticed by the Student Activities Director at Niles West, where she invited us to speak at the beginning of the year to other clubs about changing to fair trade fundraising.
The Niles West UNICEF club cannot thank the seniors from the class of 2015 enough for taking the initiative to make this club a reality. It is because of their enthusiasm and interest in helping that world's children, that this club is what it is today. We are blessed to be able to work alongside a group of passionate students who share the same goals towards a better future for women and children. With their nonstop dedication and Ms. Sortino's mentoring, the Niles West UNICEF club is gradually making these goals become realities. Because of UNICEF, we are learning about the world in a way we would not in a typical classroom setting. We will continue fighting for the survival, development, protection and equality for all children.