The Lamplighter Layers, the fourth grade class at the Lamplighter School in Dallas, again selected the U.S. Fund for UNICEF as a recipient of a very special donation.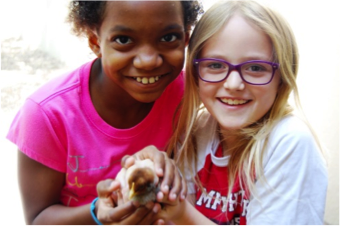 The Layers, a chicken-raising and egg-selling corporation on the school campus, donate most of their annual profit to charity.  While the students learn about entrepreneurship, business, and farming, they also take an active role in their corporation's philanthropic decisions by learning about and researching charities.  This year, the students sold more than 5,500 eggs and donated profits to the U.S. Fund for UNICEF, World Wildlife Fund, and the Lamplighter Land Fund.
The students at the Lamplighter School have been exemplary advocates for the world's children,  participating in Trick-or-Treat for UNICEF and a local child-friendly local Water Walk and hosting a  UNICEF speaker.