By David Evangelista, Vice President, Global Development and Government Relations, Special Olympics 
"Everyone should have the chance to swim, to make friends, to be accepted", she says over brunch one day.   Despite a rigorous public speaking schedule that has spanned 14 months together with school, sports and family life- when asked how long of a break she would like after the 2015 Special Olympics World Games in Los Angeles, she quickly responds:  "Not that much."
She exudes a confidence all her own. 
She boasts a tireless spirit to change the world and has achievements to prove it. 
She is authentic, honest and kind.
She participates in sports and loves swimming. 
She has influenced the highest levels of power in the United States, the United Nations and has a message that is quickly becoming irrefutable. 
Yet, she is part of a population that has forever been known for what they are not, what they do not have, what they cannot do and what they shall never be given the chance to do.
Her name is Lucy Meyer.  She is 16 years old. 
She has an intellectual and physical disability. 
She's about to change the game for inclusion.
The world may not fully understand the depth of Lucy's impact, nor may it be fully prepared for the legacy it will leave.  Lucy pays this no mind. She knows that sustained and widespread change of heart and mind requires a gentle but consistent approach.
Lucy is a young woman from southern California who has inspired a platform for change that represents one of the most sophisticated, yet simple, propositions:
Believe in yourself, and others will follow.   
She has been an active Special Olympics athlete since January 2013.  She sits on global committees that fight for the rights of children with disabilities, namely that of the Global Partnership on Children with Disabilities Youth Council, led by UNICEF.  She has been a Spokesperson for the U.S. Fund for UNICEF as part of its commitment to uphold and protect the rights of the most at-risk children in the world.  Since May of 2014, she has served as one of the most active Global Messengers for the 2015 Special Olympics World Games in Los Angeles, which just concluded this past 2 August 2015. 
In her truly diplomatic role, she has brought two big groups together and focused them toward a common vision.  As part of the first-ever GenUin Social Impact Summit, convened by Special Olympics together with a range of partners including UNICEF and the U.S. Fund for UNICEF, Lucy has been nominated to serve as the first Official Spokesperson of the newly formed Special Olympics- U.S. Fund for UNICEF partnership. 
This role is different than the rest. 
While Lucy has been advocating for issues and platforms that existed well before her birth, the platform now shared between Special Olympics and the U.S. Fund for UNICEF was born single-handedly from her inspiration.
She is perhaps one of the most powerful speakers to represent the disability community at the United Nations Conference of State Parties for the UN- Convention on the Rights of People with Disabilities, and has been tireless in generating impressive support from the United States as part of her role as an Ambassador for the World Games- all the way to the White House where she met with President Obama and to the United Nations, where she has addressed the issue directly with global leaders like the Honorable Anthony Lake, Executive Director of UNICEF. 
She does not boast of these achievements.  She celebrates them and shares them to inspire her friends.  With a strong message and undying commitment to it, anything is achievable, she says.
Lucy is set to start a speaking tour in support of two leading organizations to advocate for a new way of understanding people with different abilities.  She is also about to take by storm the hearts and minds of civil society leaders, business leaders and political stakeholders alike. 
She is the ultimate athlete- where doing her best does not need to represent beating anyone.   What she is prepared to beat is an entrenched stigma that puts the odds against her and her friends.  She won't have it, and she's determined to spread her message of inclusion across the United States and the world to ensure that people listen. 
Most importantly, she is determined to be defined in life by her strengths, not our common weaknesses.     
Now that's a game changer.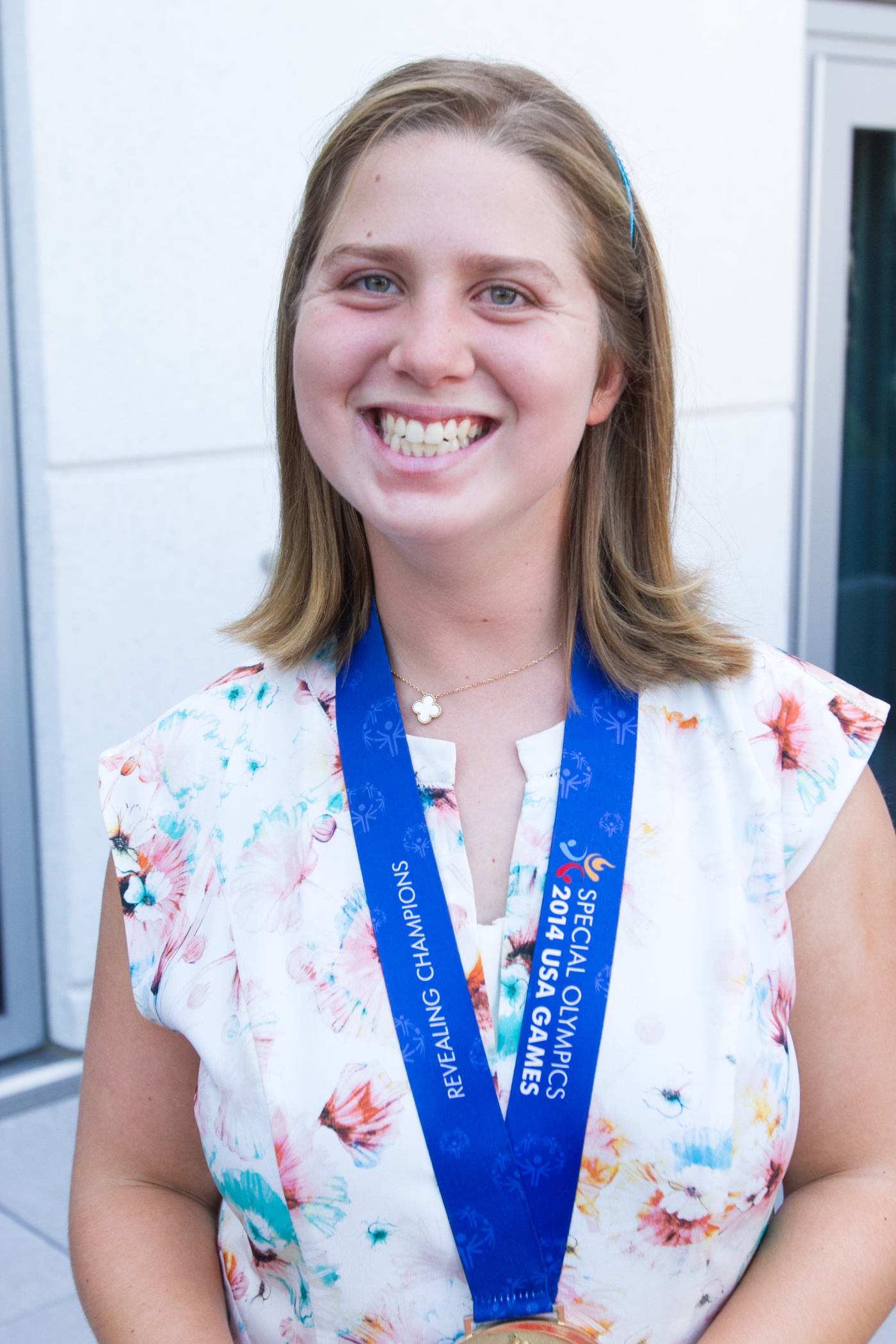 Photos by Amy Tierney / Thrive Images