Challenges, Struggle and Hope: UNICEF's Year in Photos 2016
"Children should be the first to benefit from mankind's successes and the last ones to suffer from its failures ... for it is on how we bring up our children that our civilization is measured, our humanity is tested and our future is shaped." — James P. Grant, UNICEF Executive Director, 1980-1995 
How will our civilization be measured by the events of 2016 — a year in which some of the world's most vulnerable children were tested by disasters both natural and human-made?
Earthquakes and drought, the powerful tail of a devastating El Niño, a Zika epidemic — and the gravest humanitarian crisis of our generation, a movement of migrant and refugee children larger than any since World War II. All of these emergencies challenged UNICEF as it moved forward with its mission of saving and protecting children.
Yet alongside the struggle came acts of kindness, acts of hope. The children and their families continually inspired us with their resilience and determination, no matter what the difficulties, to find the futures they deserve. Below: UNICEF's year in photos 2016.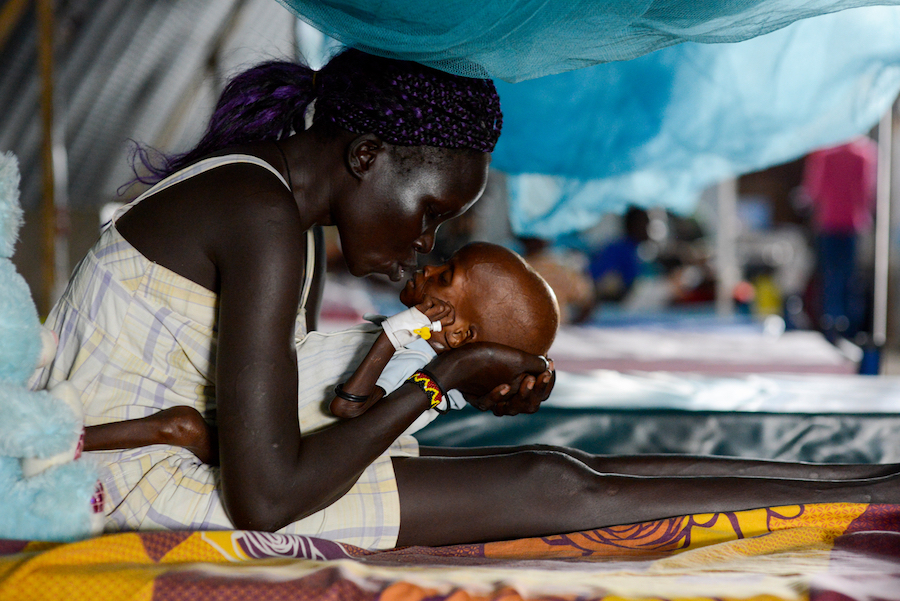 South Sudan  Eliza kisses her baby, Jal Puok, 1, at the Mercy Hospital in Juba. In 2016, UNICEF treated over 180,000 children for severe acute malnutrition in South Sudan alone. © UNICEF 2016/UN034425/Rich
Child Refugee Crisis  A boy helps his sister across a ditch at a refugee and migrant transit center in FYR Macedonia. The scale of this crisis is staggering, with nearly 50 million children uprooted from their homes.  © UNICEF/UN05568/Georgiev
Yemen  The children's "water trolley" in war-torn Taiz. In Yemen, where more than 19 million people need access to clean water, the daily search for the essential liquid is both challenging and dangerous. These kids created the trolley to get water to their houses more quickly. © UNICEF Yemen
Zimbabwe  El Niño-induced drought has devastated crops and destroyed livelihoods, and taken a terrible toll on children's well-being. In Matebeland South Province, families have resorted to eating shrivelled fruit to survive. © UNICEF/UN032899/Mukwazhi
Children Not Soldiers  The use of children as combatants adds an even darker dimension to the already terrible conflict in South Sudan. In October, children with the Cobra faction waited to be demobilized in Pibor, South Sudan, their weapons seen on the ground. © UNICEF/UN037269/Lomodong
Indonesia  Santi and Lexi hope their daughter Tia Alestra, 5 months old, grows up to become a nurse. To make sure she grows up healthy and strong, they regularly bring her to a UNICEF-supported health center on Jakarta's outskirts. This March morning, Tia Alestra has just received her polio immunization. © UNICEF USA/Ibrahim
Iraq Crisis  Feleknaz has lived in Ain Al-Khadra refugee camp in Syria for the past two years after fleeing Sinjar mountain in Iraq. She now attends a UNICEF school at the camp. "I am first in my classroom this year," she says. "I want to be a doctor when I grow up." © UNICEF/UN020936/Hasen
Ecuador  Belen Carillo, a UNICEF child protection specialist, comforts Kimberly, 6, at the "Y" encampment for displaced families just outside of San Jose de Chamanga a few days after the devastating earthquake. © UNICEF/ECU/2016/Reinoso
Boko Haram Crisis  Zarah, 5, is starting school for the first time. She and her family fled their village in Borno state, Nigeria under fire from Boko Haram. Zarah has lost so many things in her family's flight from home. But thanks to a UNICEF school at the camp where she now lives, learning won't be one of them. © UNICEF Nigeria
Please support UNICEF's efforts to continue bringing lifesaving aid and long-term support to the world's most vulnerable children.