"I want her to study, graduate and become a doctor." This is 18-year-old Phalla Srey Lin's dream for her toddler, Nget Snet. It might seem lofty for the shy 2-year-old daughter of a family that's been farming rice and cassava in Cambodia's remote Mondulkiri Province for generations. But Cambodia's triumph over maternal and neonatal tetanus (MNT), makes the idea -- a girl joining the profession that protected her before she was even born -- perfectly sensible.
I want her to study, graduate and become
a doctor.
The Kingdom of Cambodia is the official name for the small Southeast Asian country that borders Vietnam, Thailand and Laos. Until this year, the nation, unlike its neighbors, still faced a deadly struggle with the disease that kills one newborn around the world every 11 minutes, nearly 49,000 children every year. Babies can contract tetanus through unhygienic childbirth practices that have been difficult to eliminate in places like Phalla Srey's remote village, Poutert.
But that danger is no longer there, because women like Phalla Srey now get vaccinated against tetanus before giving birth. The bacteria that causes tetanus is everywhere in the soil and animal droppings, but a series of three shots -- which cost as little as $1.80 to administer -- gives women immunity they pass on to their future babies during childbirth.
Word of this simple, life-preserving fix -- along with knowledge of safer, healthier birthing practices -- took time to spread across Mondulkiri province. Here, MNT hung on, particularly among the ethnic minority populations, who live across vast hard-to-reach areas of rough terrain. But thanks to a campaign by UNICEF, Cambodia's Health Ministry, village leaders and a network of health volunteers, Phalla Srey and moms like her are getting vaccinated and having safer, more hygienic deliveries.
"I went because I wanted to be healthy as a mother," says Phalla Srey, whose vaccination at the local health center once she became pregnant set a precedent for future visits for pre-and-post-natal care and medical advice on some age-old practices.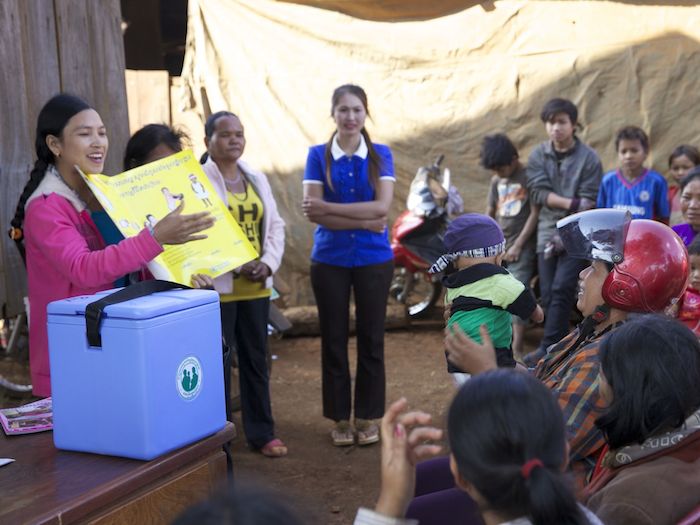 In Cambodia, when a baby died of tetanus, it was traditionally believed that the baby's "original mother" -- or her spirit -- had taken the child's life so they could be reunited. Over the past 30 years, those beliefs have given way to more informed attitudes as mothers have learned the importance of pre- and postnatal care.
But in remote areas like Mondulkiri, reachable only by airplane from the capital until recent years, dangerous traditions persisted. "Parents still believed that packing a newborn's umbilical cord wound with things like wasp nests, cobwebs or ashes from a fire aided healing," explains U.S. Fund for UNICEF Content Director Michael Sandler. 
Sandler, who met Phalla Srey in Mondulkiri in early 2015 during a visit to Cambodia with leaders from Kiwanis International, a key UNICEF partner in the fight against MNT, adds that these practices had contributed to the continuation of the deadly disease in Phalla Srey's province.  But that's all changing now.
Today, Mondulkiri Province and all of Cambodia have finally achieved MNT-free status.
Today, the province and all of Cambodia have finally achieved MNT-free status, 15 years after the worldwide maternal and neonatal tetanus elimination campaign was launched by the World Health Organization (WHO), the United Nations Population Fund (UNFPA) and UNICEF. The milestone comes just weeks after the announcement of India's MNT-free status and leaves just 21 countries around the world still facing the threat of MNT.
In Cambodia, with the emotional and physical burden of the disease lifted, Phalla Srey, and all the women vaccinated against MNT, can hatch big plans for Nget Snet and healthy children like her free of fear. "Being a doctor could have a lot of advantage in our village," says Nget Snet's mom, who has clearly learned the power of thinking ahead. "We have a health center, but we still have a lot of people who need help."
In 2010, Kiwanis International and UNICEF joined forces to help eliminate maternal and neonatal tetanus (MNT) worldwide. This historic initiative, called The Eliminate Project, will protect the lives of babies and mothers all over the globe and aims to help put an end to this cruel, centuries-old disease. It will also help pave the way for the delivery of other lifesaving services, such as clean water, nutrition and other vaccines.