On Thursday, October 30, an American Airlines flight attendant volunteer (known as Champions for Children, who collect donations of currency from customers onboard selected international flights to support UNICEF's Change for Good program) attended the first UNICEF Masquerade Ball in Chicago.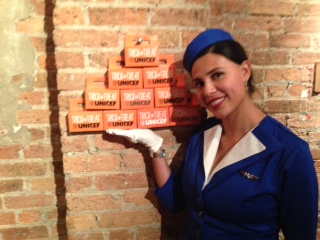 My name is Carlicia Pereira, I have been an American Airlines flight attendant for a little over a year; I am based in Miami. And, I've been a Champion for Children for eight months for UNICEF's Change for Good program in which flight attendants collect donations from customers on select international American Airlines flights to support UNICEF's programs for children. I was inspired to become a volunteer for UNICEF during one of my flights where another Champion for Children played the in-flight video of UNICEF to raise awareness about living conditions of kids around the world. I was very touched by it. That day I got more information about how to participate in this program and joined. 
I decided to join not just to do one good deed, but to become more involved and spread the word to the hundreds of people I have the unique opportunity to talk to and to also encourage them to fight for the same cause.  
As Champion for Children, I had the opportunity to attend the UNICEF Masquerade Ball in Chicago. It was such a beautiful event, and it was wonderful to be able to commune with so many who have worked so hard to further UNICEF's work. It's very different to just watch on TV about what children do to survive challenging living conditions, than to actually experience it yourself. The interactive water relay was an exercise that really put things into perspective, I could barely carry a couple of gallons of waters for like 60 feet, to think young children walk miles doing the same, every day!
After this experience I am more committed to UNICEF to keep helping to raise funds to help children around the world and get them the resources they need to improve their quality of life, and better their communities. But not just as volunteer of the program, but as an ambassador to bring more flight attendants to be part of this program. With just a 15% of flight attendants actually involved we get to raise millions of dollars every year, imagine what we could do if more of us participate as Champions for Children.
To sign up for the program (if you are an American Airlines flight attendant), or to learn more on how you can participate, visit www.unicefusa.org/changeforgood.