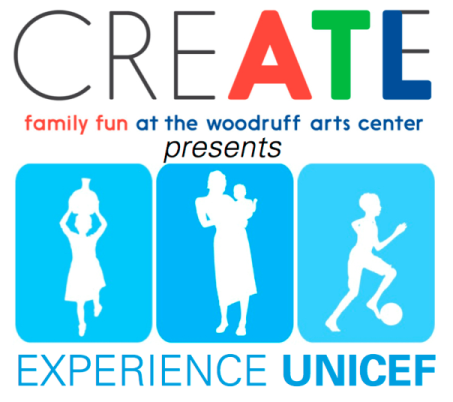 Please register at the event and pick up your Passport to have stamped at each activity! We look forward to seeing you on Sunday!
Experience UNICEF is a free event providing interactive activities and artistic opportunities for Atlanta families and children of all ages to experience how children around the world survive and thrive.
September 18, 2016 1:00-4:00pm
Activities throughout the afternoon.
Woodruff Arts Center, 1280 Peachtree St NE, Atlanta, GA 30309
Click here for parking information.
If you have any questions, please contact us at atlanta@unicefusa.org  or 404-239-3299.
Host Committee
Roohi & Dr. Yaseen Abubaker | Wendy & Brandon Bennett | Dr. Hansa Bhargava & Sandeep Yadav | Drs. Taz & Vik Bhatia | Michele & Pat Boushka | Ginny & Charles Brewer | Staci & Matt Brill | Millay & Bill Chappell | Anne & Steve Collins | Kris & Michael Delaney | Audra Dial & Matthew Ford | Barbarella & Rene Diaz | Dr. Elinor & Rob Douglass | Kay & Jim Douglass | Margaret & Steve Eaton | Nayla & Dr. Said Elshihabi | Rebecca & Dr. Sanjay Gupta | Dr. Gulshan Harjee & Zul Devji | Denise & Vern Hendrix | Christy & Tim Hooper | Carlton & Ryan Hudson | Amy Kim & John Gira | Abby King | Nancy & Michael Koziol | Priti & Nick Lakha | Catherine & Bentley Long | Mary & Tim Mapes | Joanie & Ed Michaels | Ashley & Prescott Miller | Jeri Moran & Shaun Rawls | Susan & David Nethero | Claire Parker & Ibrez Bandukwala | Swati & Rahul Patel | Suzanne & Bill Plybon | Liz Price & Rick Blumen | Laurie & Marc Skalla | Angie & Brannigan Thompson | Melody Wilder Wilson & David Wilson | Joyce & Brent Yamaato | Vern Yip & Craig Koch
Youth Host Committee
Yasmin Ajirniar | Thomas Beauregard | Annie, Kendall & John Bennett | Rania & Kabir Bhatia | Daniel Blumen | Bennett Boushka | Lucy, Charlotte & McHenry Brewer | Finley Chappell Morgan Delaney | Julia & Olivia Diaz | Ava, Henry & Robert Douglass | Jack Douglass | Zade & Kareem Elshihabi | Jasmin Endler | Duncan Ford | Kaitlyn Garrett | Will & Addison Gira | Sage, Sky & Soleil Gupta | John & Katie Hendrix | Haley & Brooks Hooper | Hampton, Hayes & Hill Hudson | Lily Koziol | Griffin Long | Evan Mapes | Rieley Martin | Avery, Prescott & Rush Miller | Jacob, Andrew & Sarah Moran | Katherine O'Connor | Duncan Park | Selena & Anyssa Patel | Humberto & Alejandro Perez | Eva & Sophie Skalla | Katie Rose Slade | Isabelle Smith | Claire Sohn | Will Stull | Nathan White | Tahj Willis | Ben Wilson | Davik & Ellora Yadav | Ansley & Jack Yamaato