Triple your Impact: Save More Children's Lives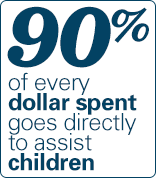 Every donation will be matched – $2-for-$1 for a $1,525,000 match – to make TRIPLE the impact for children in need. Make your 100% tax-deductible gift now and it will help provide children with desperately needed water, food, and medical supplies.
*All online gifts made to this $1,525,000 match campaign before midnight, December 31, 2015 will be matched, $2 for every $1 donated, up to a maximum of $762,500. Gifts received in excess of the matching gift will be used for the donor match fund to save children's lives.
Give with confidence
UNICEF USA meets the BBB's Wise Giving Alliance's Standards for Charity Accountability.
Charity Navigator awarded the UNICEF USA the highest financial standards for charities.
Out of every dollar spent, 90.2 cents goes toward helping children.
Other ways to donate
Donate by Phone

Call 1.800.FOR.KIDS

(1.800.367.5437 to donate by phone)

Donate by Mail

To make a donation by mail, please print out this form and follow instructions on printed document.