Support the Children of South Sudan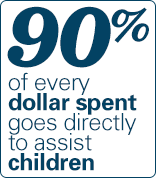 At least 229,000 children are suffering from severe acute malnutrition in South Sudan — a number that has doubled in just one year. UNICEF estimates 50,000 of these children could die if they don't get help now.
An estimated 3.75 million children in South Sudan are threatened by violence, malnutrition and disease due to the conflict that began in December 2013. These children need your help now.
Donate to help UNICEF meet the urgent needs of children in South Sudan.
Give with confidence
The U.S. Fund for UNICEF meets the BBB's Wise Giving Alliance's Standards for Charity Accountability.
Charity Navigator awarded the U.S. Fund for UNICEF the highest financial standards for charities.
Out of every dollar spent, 90.2 cents goes toward helping children.
Other ways to donate
Donate by Phone

Call 1.800.FOR.KIDS

(1.800.367.5437 to donate by phone)

Donate by Mail

To make a donation by mail, please print out this form and follow instructions on printed document.