Help vulnerable children get access to clean water.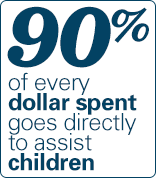 Imagine you turn on your tap and nothing comes out. Or worse — there is no tap. For millions of children, this is reality.
Every day nearly 1,000 children die from diseases linked to unsafe water and poor sanitation. That's one death every 90 seconds.
You can help. Give now to help the world's most vulnerable children access clean water, better sanitation, and the lifesaving care they desperately need.
Make your 100% tax-deductible gift to help children in need today.
By making a donation to the UNICEF USA today, you can provide children with:
Clean and safe drinking water
Child friendly spaces for counseling, rest and play
Essential vitamins and nutrients
And much more
Give with confidence
UNICEF USA meets the BBB's Wise Giving Alliance's Standards for Charity Accountability.
Charity Navigator awarded UNICEF USA the highest financial standards for charities.
Out of every dollar spent, 90 cents goes toward helping children.
Other ways to donate
Donate by Phone

Call 1.800.FOR.KIDS

(1.800.367.5437 to donate by phone)

Donate by Mail

To make a donation by mail, please print out this form and follow instructions on printed document.