Act now: You can help end preventable child deaths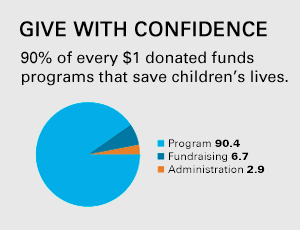 Your gift of just 50 cents will save lives.
Your generous gift will provide lifesaving emergency care, nutrition and vaccines — delivered every single day of the year — to children who could die without it. Your help is urgently needed. Please act now.
As a new monthly donor you will receive regular updates on how your gifts are helping to save children's lives.
---
Our Monthly Giving Program
How Monthly Giving Works

Monthly donors help reduce our costs—which allows UNICEF to help even more children in desperate need.

Prefer to Join by Phone?

Call (212) 922-2626 to join our monthly giving program by phone.