Help Children in Crisis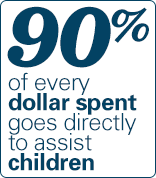 Millions of children around the world are threatened by an unprecedented number of simultaneous crises as the international community bears witness to a surge in violent conflict. In the Central African Republic, children have not attended school for at least two years due to fighting. In South Sudan, conflict has exacerbated a nutrition crisis and famine is looming. Polio has returned to Syria, nearly two decades after being eradicated. Nearby in Iraq, dozens of children died of dehydration after being trapped on a mountain by combatants and hundreds of thousands more are still displaced by evolving unrest. In Gaza, every child age seven and older has now lived through three wars.
These innocent children are under siege and need our help.
UNICEF is committed to stay and deliver for children in crisis, but we urgently need your support. In this time of great need, we have created a special fund for the world's most severe emergencies. Donations to this fund will be pooled and shared among these crises, but we're also accepting gifts directly to the specific affected: Central African Republic, Gaza, Iraq, South Sudan, and Syria.
Your gift to this global fund for children under siege will provide lifesaving assistance and protection to children and families in need around the world.
Other ways to donate
Donate by Phone

Call 1.800.FOR.KIDS

(1.800.367.5437 to donate by phone)

Donate by Mail

To make a donation by mail, please print out this form and follow instructions on printed document.