Help Children Affected by Violent Conflict in Gaza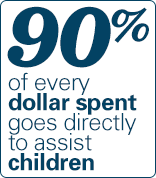 The 51-day conflict that began in July 2014 had a severe impact on children in Gaza, exposing them to unparalleled levels of violence. More than 500 children were killed and thousands were injured. Today, more than 300,000 children still need emotional and psychological support. Basic needs such as food, water and education remain significant.
UNICEF is on the ground in Gaza providing education, nutrition, health and child protection programs, and is playing vital role in restoring access to water, sanitation and hygiene.
You can help. Please donate today.
Other ways to donate
Donate by Phone

Call 1.800.FOR.KIDS

(1.800.367.5437 to donate by phone)

Donate by Mail

To make a donation by mail, please print out this form and follow instructions on printed document.