Donate to the UNICEF Tap Project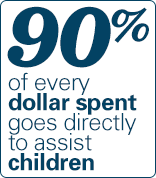 No one can survive without water. Yet nearly 750 million people do not have safe, clean water to drink, and more than 2.5 billion people live without a proper toilet. The lack of these basic necessities isn't just inconvenient—it's lethal. Every day, nearly 1,000 children under five die of diseases caused by unsafe drinking water and inadequate sanitation and hygiene. Through the UNICEF Tap Project, you can help stop these needless deaths.
The UNICEF Tap Project is a nationwide campaign that provides clean water and adequate sanitation to children around the world. With just $5, UNICEF can provide one child safe drinking water for 200 days. Currently, UNICEF works in more than 100 countries around the world to improve access to safe water and sanitation facilities in schools and communities and to promote safe hygiene practices.
Other ways to donate
Donate by Phone

Call 1.800.FOR.KIDS

(1.800.367.5437 to donate by phone)

Donate by Mail

To make a donation by mail, please print out this form and follow instructions on printed document.