Chad: Help Children Now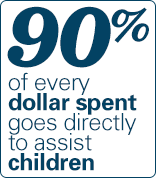 Conflict in northern Nigeria has forced thousands of families from their homes and into neighboring Chad. More than 18,000 Nigerians have now taken refuge there. Mass displacement means children are at higher risk of malnutrition and disease, and many require support to be reunited with their families.
UNICEF is on the ground working to reach children with lifesaving nutrition, protection, health, education and water and sanitation.
Use this form to make a secure, tax-deductible donation to the UNICEF USA, supporting UNICEF's efforts in Chad: $50, $100, $500 or any amount you can give helps save kids' lives.
Give with confidence
UNICEF USA meets the BBB's Wise Giving Alliance Standards for Charity Accountability.
Charity Navigator awarded the UNICEF USA the highest financial standards for charities.
Out of every dollar spent, 90.2 cents goes toward helping children.
Other ways to donate
Donate by Phone

Call 1.800.FOR.KIDS

(1.800.367.5437 to donate by phone)

Donate by Mail

To make a donation by mail, please print out this form and follow instructions on printed document.