Campus Initiative Donation Form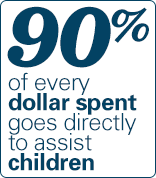 Every day, children die needlessly from preventable causes—and they don't have to.
UNICEF works in more than 190 countries and territories to save and improve children's lives, providing health care and immunizations, clean water and sanitation, nutrition, education, emergency relief and more.
By making a tax-deductible donation to the U.S. Fund for UNICEF, you can help UNICEF take proven, low-cost methods that save children's lives and make them available regardless of income, ethnicity, or location.
Other ways to donate
Donate by Phone

Call 1.800.FOR.KIDS

(1.800.367.5437 to donate by phone)

Donate by Mail

To make a donation by mail, please print out this form and follow instructions on printed document.