2015 UNICEF Masquerade Ball Chicago - Make a Donation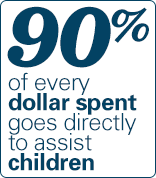 Make a secure, tax-deductible donation today to the UNICEF USA and support UNICEF's child survival programs worldwide.
Your gift will help save children's lives by providing emergency relief, lifesaving nutritional and medical aid, educational opportunities and so much more.
Other ways to donate
Donate by Phone

Call 1.800.FOR.KIDS

(1.800.367.5437 to donate by phone)

Donate by Mail

To make a donation by mail, please print out this form and follow instructions on printed document.