Gabriella Morris, Interim Chief Development Officer & SVP Strategic Partnerships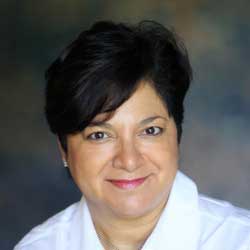 Gabriella Morris is UNICEF USA's Senior Vice President of Strategic Partnerships. In her current role, she oversees the Foundations, Corporate Partnerships and Global Cause Partnerships teams, aligning strategy, partnership development, resource mobilization, and donor relations with UNICEF's programmatic needs. Prior to this appointment she was the Senior Vice President of UUSA's In Kind Assistance Corporation and the UNICEF Bridge Fund (the "Fund"), an innovative financial tool created by UUSA to fast-track lifesaving assistance to children in need around the world.
Before joining UUSA, Gabriella completed 26 years of service in senior legal, philanthropic and community relations positions at Prudential Financial.  She served as President of The Prudential Foundation and Corporate Vice President of Community Resources for 17 years. She directed all aspects of Prudential's interface with communities, national and global philanthropies, and nonprofit organizations, as well as the firm's government, business, academic and community thought-leadership. She oversaw the company's philanthropy, contributions, social/impact investments, employee volunteerism, community relations and business diversity outreach. Prior to her role in Community Resources, Gabriella served as Prudential's legal counsel in various leadership and management roles within real estate operations. Before Prudential, Gabriella was real estate counsel to The Southland Corporation in Dallas, Texas, and before that served as Associate Counsel with the Houston, Texas-based law firm of Baker & Botts, in its securities, real estate and oil and gas practices. 
Gabriella has served on numerous boards, agencies and public-sector committees that reflect her interests and passions. She currently sits on the boards of the Annie E. Casey Foundation, the Harlem School of the Arts, the New Jersey Performing Arts Center Women's Association and the NAACP Legal Defense and Education Fund. She is a founding board member of United States Artists, the Newark Trust for Education and the Brick City Development Corporation. She previously served on the boards of the Wells Fargo Regional Foundation, the Alvin Ailey American Dance Theater and Living Cities. Gabriella assumed her first volunteer position at the age of nine, supporting her mother in launching a pilot Head Start program.
Gabriella received an AB in Architecture and Urban Planning and a Certification in African-American Studies from Princeton University, and a JD from The University of Texas School of Law. She has received professional certifications from Harvard Business School's Executive Education program in Corporate Social Responsibility and from Stanford University's Center for Social Innovation.