Barron Segar is Chief Development Officer & Executive Vice President for UNICEF USA.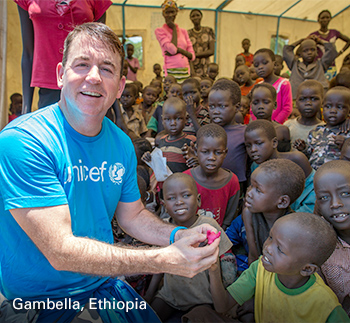 In this capacity, Barron oversees strategic leadership in key fundraising areas: Major Gifts, Corporate Partnerships, Global Cause Partnerships, Direct Response and Integrated Monthly Giving, Special Events, Gifts-in-Kind, Community Fundraising, Sports Marketing, UNICEF Next Generation, Planned Giving, Prospect Development, Global Fellows and the oversight of nine regional offices located throughout the United States. He supervises a leadership team of seven vice presidents and a division of more than 110 staff who raise funds and awareness of UNICEF's mission. He plays a chief role in carrying out the vision for the organization as it works to ensure that every child has a happy and healthy childhood. Barron also serves on the UNICEF Global Think Tank – aiding in the development of UNICEF's global development strategy. 
Before joining UNICEF USA, Barron served as the Director of Development for Georgia Public Broadcasting where he had management responsibilities for $8.5 million in development activities. He and his team set an organizational record and were recognized nationally by PBS. Before joining public broadcasting, Barron worked in the financial services industry as a Regional Vice President with management responsibilities for 26 banking centers.
Outside of UNICEF, Barron is a Founding Board Member and Corporate Secretary of the Elton John AIDS Foundation where he serves on the executive team that has distributed more than $375 million in America and internationally. Barron is a lifetime member of the Metro Atlanta Chamber of Commerce, past National Advocacy Council member of the CDC Foundation and was a recipient of the annual Fundraising Professional of the Year Award by Fundraising Success Magazine.
Barron graduated from Hampden-Sydney College in Virginia.
January 2017