Anucha Browne is Chief Advocacy and Engagement Officer at UNICEF USA.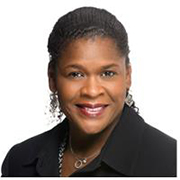 Anucha Browne is Chief Advocacy and Engagement Officer for UNICEF USA. She joined the organization in November 2017 and oversees a comprehensive portfolio of engagement, advocacy, congressional relations, emergency response and domestic programs.
Since its founding, support from the American public has been integral to UNICEF's lifesaving work for children around the world. Individual volunteers, educators, high school and college groups, and community leaders are some of the many constituent groups Browne works with to advance advocacy, fundraising, and program goals for UNICEF's global priorities.
UNICEF is guided by the Convention on the Rights of the Child and Browne leads the organization's strategy to realize the rights of all children by engaging staff, volunteers, donors, young people, and partners in this foundational work at the national and regional levels.
As an extension of this work, Browne has pioneered domestic programs and grants in support of vulnerable children in the US who have been affected by natural disasters, disease, and migration. Recently, her team launched a flagship international program, UNICEF's Child Friendly Cities Initiative, to help local governments and communities center policy and decision making around the best interests of children and youth, with their active participation.
Browne also leads on Congressional outreach strategy, identifying legislative priorities that protect and fund programs that uphold child rights, including child survival, health, nutrition, education, and protection from exploitation and harm. Her leadership is responsible for the annual government contribution of $134 million to support UNICEFs resources.
Browne and her team weave together UNICEF's global priorities and UUSA's diverse stakeholders to educate, engage, and inspire the American public to take action in the best interest of the world's children.
Previously, she was the NCAA's vice president of women's basketball championships beginning in August 2012, where she set the strategic direction for, and oversaw the operation and management of, the Division I, II and III women's basketball championships. She served as regional, national, and international spokesperson for NCAA women's basketball and was the primary liaison to the women's basketball committees and the 1200 public and private colleges and universities on all matters related to the sport. Browne provided strategic oversight of the site-selection process for each championship and was the primary liaison to the NCAA's broadcast partner ESPN. Her work in this role raised the profile of the sport in the national and international media. She also spearheaded a strategic initiative to ensure the ongoing collaboration across all levels of the sport (FIBA, USAB, WNBA, NCAA, and AAU). Browne had established legacy community impact programs targeted at underserved populations in championship cities -- a series of projects that teach social responsibility through service learning.
Before joining the NCAA, Browne was named the senior associate athletic director for marketing at the University at Buffalo in 2007 where she was responsible for marketing the revenue sports while overseeing ticket operations, promotions and corporate sales efforts. Her work was instrumental in reinvigorating the UB athletics brand in the Western NY market and producing higher ticket, suite and sponsor revenues, as well as spearheading a new community service initiative that increased community outreach for all Buffalo student-athletes while leveraging the university's advanced research in the area of childhood obesity. Browne also served as the senior women's administrator focusing on the gender equity issues within the athletic department and was responsible for annually reporting to the U.S. Department of Education.
In addition to her work in college athletics, Browne was hired in 2000 by Madison Square Garden where she served as the New York Knicks' senior vice president of marketing and business operations, responsible for all franchise brand marketing initiatives and revenue generation ($180 million 2005). In this role, Browne became one of the highest-ranking female executives in professional sports. Before the Knicks, Browne spent 11 years at IBM in various marketing and sales roles – most notably, leveraging IBM's technology investments in the NBA, tennis Grand Slams, the PGA and the 1996, 1998 and 2000 Olympic Games. Browne also led a technology giving project at the Hermitage Museum in St. Petersburg, Russia that enabled the museum to utilize IBM proprietary watermark technology to digitize rare Eastern European art collections (www.hermitagemuseum.org). She got her career start working at Eastman Kodak after graduating from Northwestern University with a BS degree in communications.
Browne also earned a Master's degree in Communication at Florida State University. She has been recognized nationally for her work in the sports business and advocating for women. She was named to the Sports Business Journal's "Forty Under 40" in 2003 and was recognized as a woman of power and influence in 2008 by the National Organization of Women. Browne has served on several boards including the Children's Village, the United States Bobsled and Skeleton Federation and the National Association of Collegiate Women Athletics Administrators. She currently serves on the DeVos Sport Business Management Program's Board of Advisors, Beyond Sport's Board of Advisors, the Board of Directors for Advocates for Athletic Equity, as well as the Women's Basketball Coaches Association Board and the Women's Basketball Hall of Fame Board of Directors. Browne currently serves on Heartland Alliance International Board of Directors.
She lives in Brooklyn, New York.