The 2014 UNICEF Snowflake Ball
Celebrating its tenth year, The UNICEF Snowflake Ball is one of the most notable black-tie galas in New York City with over 700 guests. This year's goal is to raise $3 million to add to the $20 million raised over the past nine years. The event supports UNICEF's work in more than 190 countries and territories to save and improve children's lives, providing health care and immunizations, clean water and sanitation, nutrition, education, emergency relief and more. National Board member and Founding Member of UNICEF Snowflake Ball Committee, Hilary Gumbel has donated her time, influence and kindness for over ten years to help UNICEF. Principal of Firefly3 and Board Chairman of the ONE Campaign, Tom Freston's unwavering commitment to fighting poverty has truly made a positive impact on children all around the world.
Presented by
December 2, 2014

Black Tie
Honorees

Audrey Hepburn Humanitarian Award
Hilary Gumbel
U.S. Fund for UNICEF National Board Member

Spirit Of Compassion Award
Tom Freston
Board Chairman of the One Campaign
Program Details
For more information, please contact:
Jennifer LopezU.S. Fund for UNICEF • 125 Maiden Lane, 11th floorNew York, NY 10038T 212-880-9131 • F 212.922.2516jlopez@unicefusa.org
Co-Chairs
Gala Co-Chairs
Moll Anderson
Gillian Miniter
Honorary Chair
Next Gen Co-Chairs
Nell Diamond
Jaime Jiménez
Project Chair
Snowflake Patrons
Christine and George Stonbely
highlights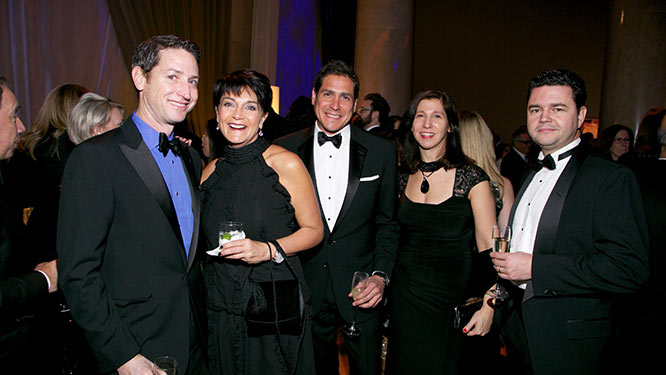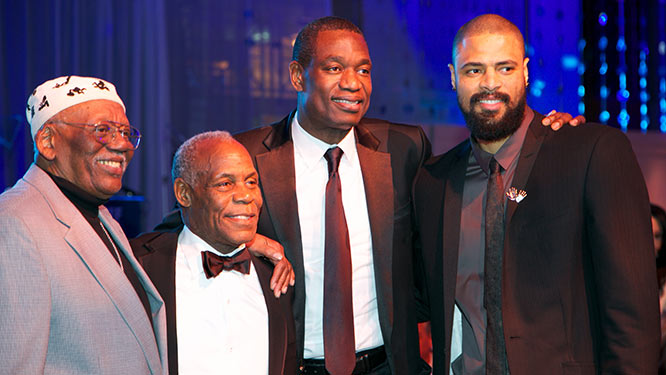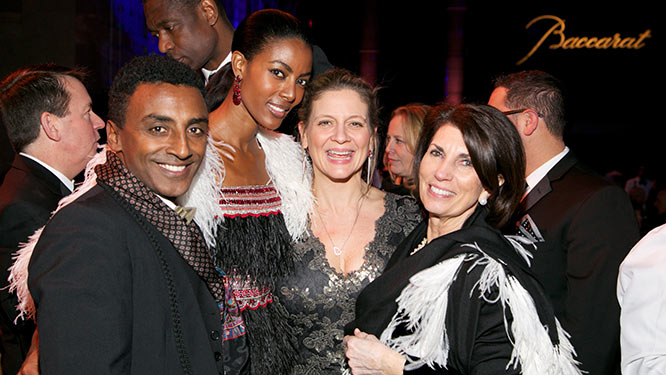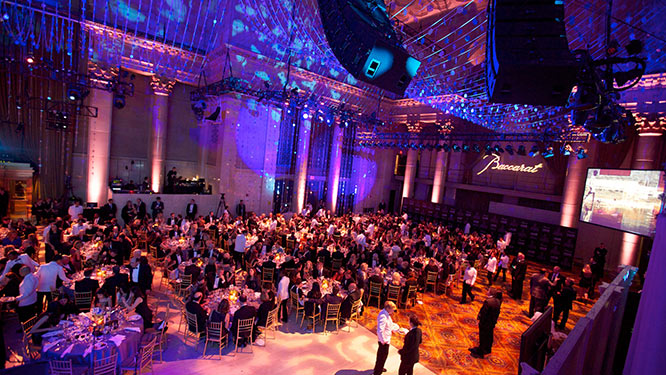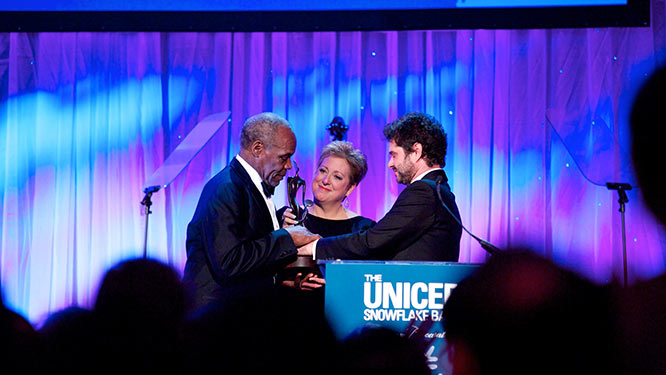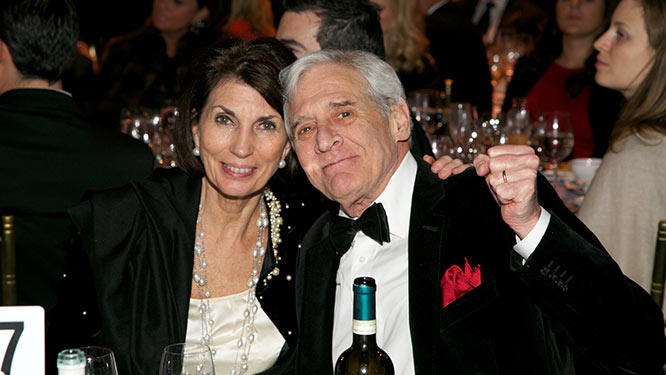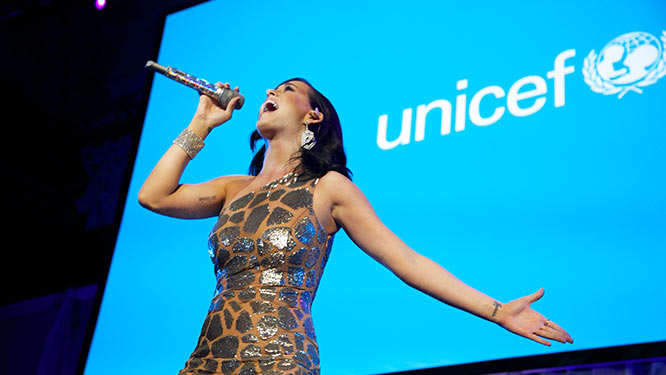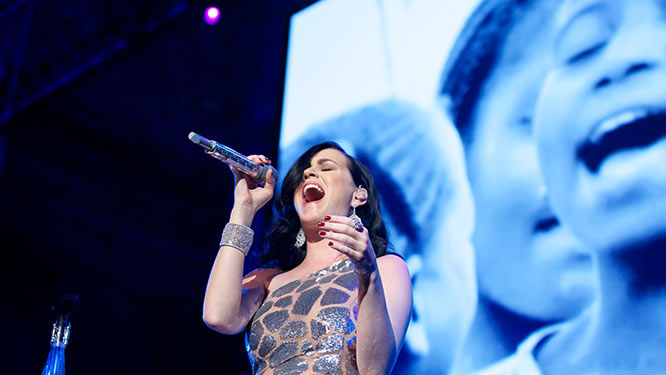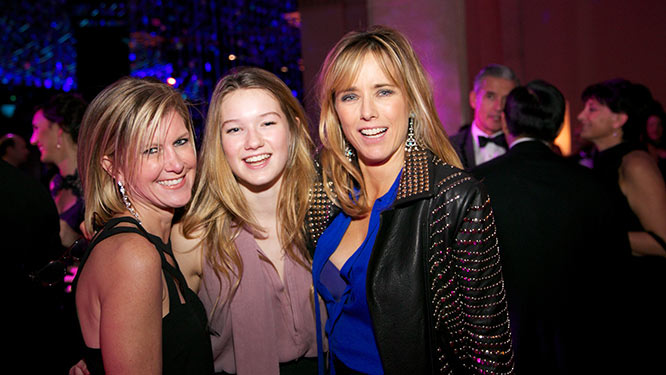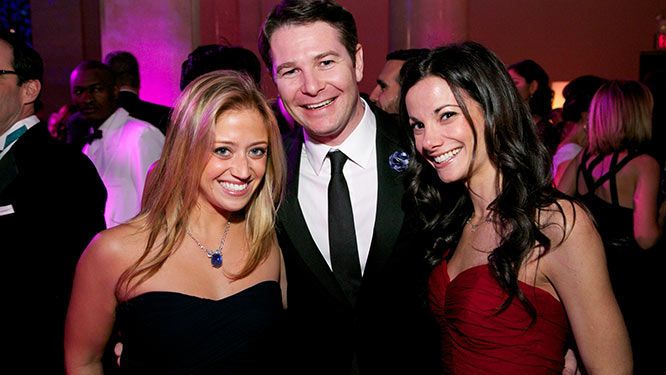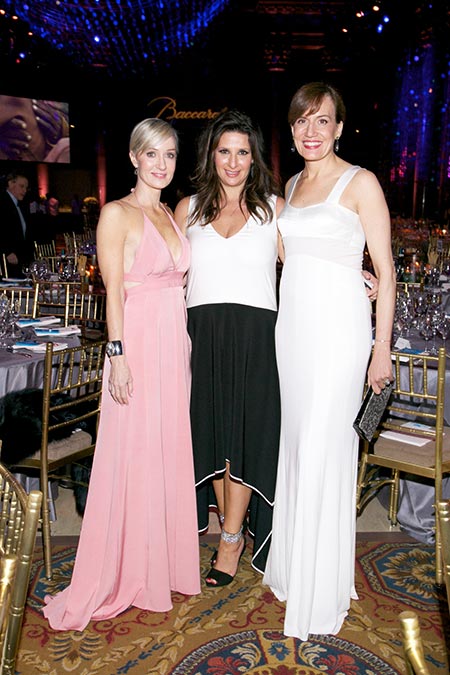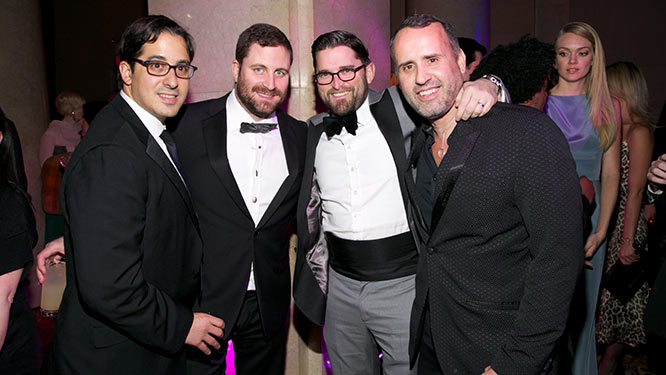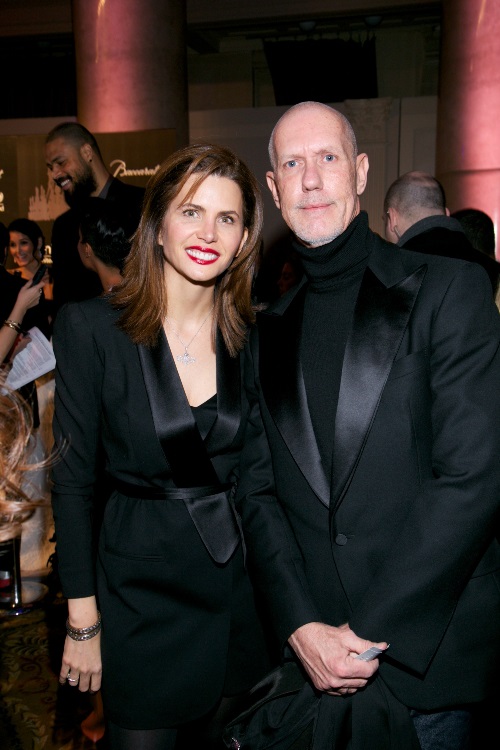 Highlights from last year's ball
In this video, watch this landmark venue transform into one of NYC's the most notable black-tie galas. Hosted by Bryant Gumbel, the 2013 event included a special performance by UNICEF Goodwill Ambassador Katy Perry. At the 2013 UNICEF Snowflake Ball, the U.S. fund for UNICEF was proud to honor UNICEF Goodwill Ambassador, Danny Glover, and CEO of Barneys New York, Mark Lee.
2014 Committee
Host Committee
Kristen Bell
Rose Byrne
Tyson Chandler*
Andy Cohen
Angie Harmon*
Katherine Herzer
Lucy Liu*
Seth Meyers
Chloë Grace Moretz
Christina Ricci
Kelly Ripa
Emmy Rossum
Sarah Silverman
Gala Committee
Charlotte Blechman
Kimberly Chandler
Mary Callahan Erdoes
Mindy Grossman
Dayle Haddon*
Eleanora Kennedy
Sandra Lee
Téa Leoni*
Charlotte Moss
Elizabeth Musmanno
Elyse Newhouse
Wendy Stapleton Reyes
Laine Siklos
Marjolein Steenbergen
Christine Stonbely
Christina Zilber
Fashion Committee
Joseph Altuzarra, Altuzarra
Max & Lubov Azria, BCBG Max Azria Group
Pamela Baxter, Christian Dior
Catherine Bloom
Prabal Gurung, Prabal Gurung
Naeem & Ranjana Khan, Naeem Khan
Federica Marchionni, Dolce & Gabbana USA
Rodrigo Otazu, Rodrigo Otazu New York
Lela Rose, Lela Rose
Derek Lam & Jan-Hendrik
Schlottmann, Derek Lam
Michelle Smith, Milly
Olivier Theyskens
Luca Voarino, Balenciaga
Décor Design
Menu Design
Marcus Samuelsson*
Scott Conant
Alex Guarnaschelli
* UNICEF Ambassador
2014 Sponsors
Presenting Sponsor
Humanitarian
Charlie and Moll Anderson Family Foundation
Christine M.J. Oliver
Jeffery and Amy Towers
Mariner Investment Group, LLC
Pfizer Inc
Sumner M. Redstone Charitable Foundation
Champion
The Haslam Family Foundation
Hallmark Cards
HBO
J.P. Morgan and Philip and Mary Erdoes
UPS
Vester T. Hughes Jr.
 Voya FinancialTM
Protector
Barneys New York
BD
The Diamond Family
Christian Dior
Max Duckworth and Sarah Godlewski
Sarah and Gerard Falcone
Dolores and Thomas Gahan
Hilary and Bryant Gumbel
Hearst Corporation
Mr. and Mrs. Franklin W. Hobbs
Ann and Tod Holmes
HSN, Inc.
Mel Karmazin Foundation
Derek Lam and Jan-Hendrik Schlottmann
Deborah and Peter Lamm
Barrie Landry Charitable Foundation
The Lebenthal Family
Téa Leoni
Merck & Co. Inc.
Gillian and Sylvester Miniter
NBA Cares
Elyse and Michael Newhouse
Purvi and Harsh Padia
Emily and Tony Pantaleoni
The Perelman Family Foundation
Prudential Financial, Inc.
Karen and Timothy D. Proctor
PwC/Y&R
Diego and Wendy Reyes
Scripps Network Interactive
Christine and George Stonbely
Target MarkeTeam
Ashley and Jeff McDermott
Sherrie and David Westin
Christina Zilber
UNICEF Snowflake Ball Reception presented by Voya FinancialTM
as of October 28, 2014
About the UNICEF Snowflake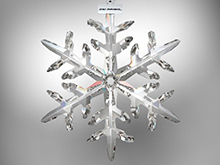 The evening's namesake, The UNICEF Snowflake, is a 28-foot ornament made up of 16,000 hand-cut Baccarat crystals that shines each holiday season over the intersection of 57th Street and Fifth Avenue in New York City. The ornament - a beacon of hope, peace, and compassion for children everywhere – was donated to UNICEF by the Stonbely Family Foundation and its iconic architecture is courtesy of designer Ingo Maurer and Baccarat.
If you would like to purchase an engraved crystal on the UNICEF Snowflake for $500, click here.