Caryl M. Stern is the President and CEO of the U.S. Fund for UNICEF.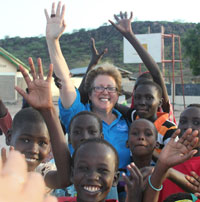 Lodwar, Kenya
Caryl M. Stern is currently the President & CEO of the U.S. Fund for UNICEF, following 27 years of non-profit and education work including serving as the Chief Operating Officer and Senior Associate National Director of the Anti-Defamation League; the founding Director of ADL's A WORLD OF DIFFERENCE Institute; and the Dean of Students at Polytechnic University.
Caryl has served on numerous non-profit Boards including the United National International School, Mercy College, and the Martin Luther King Memorial Foundation. Currently, she serves on the Boards of The Container Store, the WE ARE FAMILY Foundation, the Center for Disaster Philanthropy, the SEEDS Academy, and the Advisory Board to the WNBA.
Caryl's latest book, I BELIEVE IN ZERO: Learning from the World's Children (St. Martin's Press, 2013) was released in paperback this fall. Frequently appearing in the media, Caryl has been publicly recognized for her work, and was named as one of Jewish Women International's 10 " Women to Watch;" one of "25 MOMS WE LOVE" by Working Mother Magazine; a "Role MOMel " by the New York Daily News; and one of the FORWARD 50 – a list of the 50 most influential Jews in America. She has also been honored with the Leading Lights Award from the National Multicultural Institute and the FutureWork Institute and the Inspiration Award from the United Nations Association of Young Professionals.
Caryl holds a B.A. degree in Studio Art from the State University of New York at Oneonta; and an M.S. in College Student Personnel Administration from Western Illinois University. She completed her doctoral coursework in this same field at Loyola University in Chicago and has received a Doctor of Humane Letters degree from both Mercy College and Cedar Crest College.
She is married, has three sons and two grandchildren.
Links
March 2013