Caryl M. Stern is the President and CEO of the U.S. Fund for UNICEF.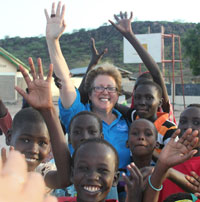 Lodwar, Kenya
Caryl joined the U.S. Fund for UNICEF in 2006 as Chief Operating Officer and served as Acting President for a short time before assuming her current position in May 2007.
Previously, Caryl served as Chief Operating Officer and Senior Associate National Director of the Anti-Defamation League (ADL) after a 10-year career in higher education, most recently as Dean of Students at Polytechnic University in New York.
Caryl is a member of the boards of the United Nations International School, Mercy College, WE ARE FAMILY Foundation, and the Martin Luther King Memorial Project Foundation, as well as a charter member of the U.S. Fund for UNICEF Kiwanis Club and an advisory board member of the WNBA. She is the author of I Believe in Zero: Learning From The World's Children (published October 1, 2013), and co-author of Hate Hurts: How Children Learn and Unlearn Prejudice (Scholastic, 2000) and Future Perfect: A Model for Professional Development (NACA, 1987).
Caryl has received numerous honors and recognition for her work. She is a recipient of the 2012 Leading Lights Award from the National Multicultural Institute and the FutureWork Institute. In 2011, Caryl was included on Working Mother's list of the "Most Powerful Moms in Nonprofits" and was named to The Jewish Daily Forward's "The Forward 50," a list of the most impactful Jewish leaders. In 2010, she was selected as a "Role MOMel" by Moms and the City on NYDailyNews.com, and in 2009 was honored with the "Empowering Woman Award" from the General Federation of Women's Clubs and the "Woman of Influence" award by the Jewish Women's Foundation. In December 2000, Caryl was named one of "25 Mothers We Love" by Working Mother magazine.
Caryl holds a bachelor's degree from SUNY Oneonta, where she was named "Outstanding Alumna," and has a master's degree from Western Illinois University, where she was also recognized with an Alumni Award. She completed the course work towards a Ph.D. in higher education at Loyola University in Chicago and was awarded a Doctor of Humane Letters from Mercy College in 2012.
Caryl is married and has three sons and two grandchildren.
Links
March 2013