Barron Segar
Barron Segar is Senior Vice President, Development, for the U.S. Fund for UNICEF.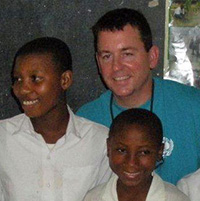 Magu, Tanzania
In this capacity, Barron is responsible for the strategic direction and implementation of fundraising in the following areas: Major Gifts, Planned Giving, Direct Response and Integrated Monthly Giving, Corporate Partnerships , Special Events and the oversight of seven regional offices.
Before joining UNICEF, Barron served as the Director of Development for Georgia Public Broadcasting, where he had management responsibilities for $8.5 million in development activities. He and his team set an organizational record and were recognized nationally by PBS. Before joining public broadcasting, Barron worked in the financial services industry as a Regional Vice President with management responsibilities for 26 banking centers.
Outside of UNICEF, Barron is a Founding Board Member and Corporate Secretary of the Elton John AIDS Foundation where he serves on the executive team that has distributed more than $300 million in America and internationally. Barron serves on the Advisory Board of Project Open Hand and is a lifetime member of the Metro Atlanta Chamber of Commerce. In 2009, Barron was recognized by Fundraising Success Magazine with the Fundraising Professional of the Year award. He was in the Leadership Atlanta Class of 2000.
May 2013